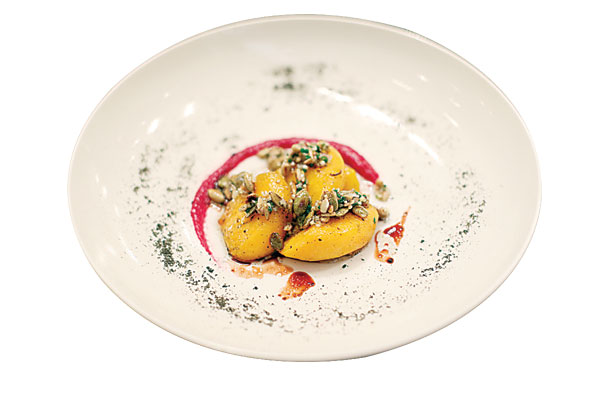 French dishes: Two plates prepared by three-star Michelin chef Yannick Alleno. [Photo provided to Shanghai Star]
Also on the Hyatt's invite list were Alain Passard, owner of L'Arpege in Paris, and acclaimed pastry chef Philippe Conticini.
But none have such a strong fingerprint in Asia and the Middle East as Alleno, whose restaurants are popping up like the mushrooms he grows on his rooftop in Paris. He now has three branches of S.T.A.Y. (Sit and Talk with Alleno Yannick): one at the Shangri-La in Beijing, another at Taipei 101 in Taiwan, and a third in Dubai. All have proven wildly successful.
Chinese customers in Beijing and Paris are even allowed to bring their own wine, a social faux pas others would not tolerate. The resident sommelier will even do wine-pairing.
"This culture is unique in the world, but we try to adapt," says a resigned Alleno.
He plans to open a restaurant in Hong Kong early next year and is scouting locations in Shanghai. In addition to lending his name to operations as far-flung as St. Tropez and Marrakesh, Alleno "easily" concocts 200 new dishes a year, he says, while spending much of his time experimenting in the kitchen back home at Terroir Parisien.
Part-poet — "you must let the food speak to you" — and part-revolutionary, Alleno has also made a name for himself by "rediscovering" produce that was once native to Paris but has since gone on the endangered list. In a sense, he has shored up the city's culinary identity.
In China, he sees himself continuing a tradition whereby French food has blossomed due to its ability to absorb foreign elements.
"The real force of French food is that it can absorb things from Spain, from Italy, from Europe, and history follows that," he says. "The DNA of a chef is really to absorb different cultures and bring his own experience and story."
"I learned something from Chinese cooking about texture. The basic example is prawns. In France, we never put prawns in the water for a long time. It's just not done. But the Chinese will do that, because they need the texture for taste. So I thought, in France, Why not put the scallops in water for a long time to find the texture?"
"In France, we had a period when we didn't want any sauces, because they were too fatty, and things like that, and that's why sauces disappeared from our plates." Yannick Alleno Three-star Michelin chef