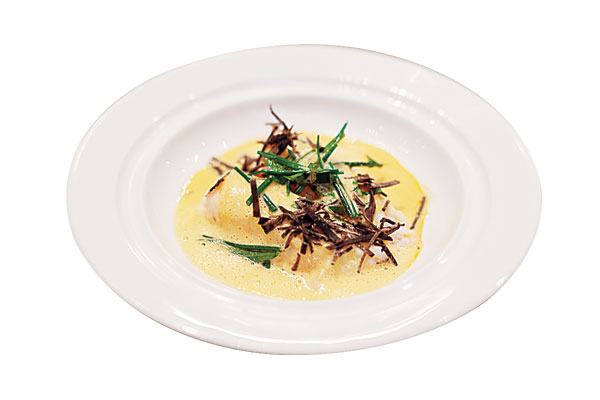 French dishes: Two plates prepared by three-star Michelin chef Yannick Alleno. [Photo provided to Shanghai Star]
"After that, I use a subzero temperature to take out the water, but with a lot of respect for the base. Then I make my blend. Before, they did the blending in the beginning, but I do it afterwards. This is the modern way to see things, to find new verbs for new cuisine."
Alleno is playful and intelligent but his manner and methodology seem scientific. "What I do is surgical," he quips.
Expectations were high that the celebrity chef with a penchant for truffles would apply such culinary wizardry to the 4,888-yuan-per-person dinner at the hotel's 93rd-floor Loft on Nov. 27, part of its 2014 Masters of Food & Wine Passion Week.
After discussing a squash dish on the night's menu featuring ginger, vanilla, oil and (fermented) bread sauce, it becomes clear that Alleno's passion for sauces hints at something deeper. He doesn't just want to preserve his culinary heritage, but rather excavate new meaning from it, restore original flavors and bring back overlooked ingredients.
Can he apply the same logic to Chinese cuisine?
"The real connection between French and Chinese cuisine is the sauce," says the 45-year-old Parisian. "It's so important in both cultures."
"Chinese food is really made in a traditional way, but I think they will also have an evolution, because modern cuisine is based on more of an understanding of what is happening with the produce," he adds. "I have to absorb (the Chinese) way of doing things, and it's completely new, so I have to work on it. Moreover, I use fermentation before extraction, because this brings out the real taste of the terroir."