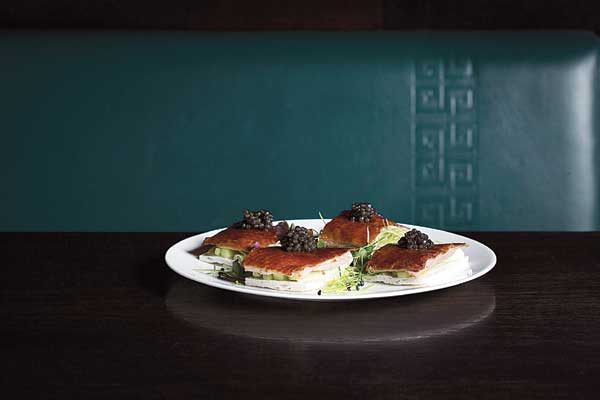 GILDED DUCK: Crisp Peking duck skin garnished with caviar. [Photo provided to Shanghai Star]
Two rectangles of duck skin are placed on trimmed pancakes, served with a dollop of caviar to add a dash of salt. The deeply rich red skin is garnished with edible gold. I applaud this as the most well balanced dish of the evening, of which the chef should be rightly proud.
The devil is in the details, and for a dish like this, it is in the amount of fat left under the skin. Too much, and there is an explosion of oil that will cloy the palate, too little and the skin is just dry crackling with no flavor to it.
The appetizer set of four dumplings comes with a brush, in addition to chopsticks, and you are expected to "apply" the chili sauce with the brush. We laughingly comply, suppressing our desire to dip the whole dumplings into the platter of sauce.
The dim sum is rich, with a variety of prawns, pork, scallops and minced duck and if I had to pick a nit, it would be that, presented in a bamboo steamer, the diner has no way of knowing that they should eat the lighter flavored seafood dumplings first, or have their taste buds muddled. The menu includes some comfort food that will strike a pleasant chord, a Sichuan pepper prawn and a stir-fried black pepper beef.
Both have the hearty celebratory flavors suitable for a National Day banquet. The portions at Hakkasan are generous, more characteristic of Chinese restaurants in the West than in China. Quality is also assured and I think that the set meal for two is very good value. For the Golden Week promotion, you also get to bring home a nicely packed golden macaroon, again speckled with gold dust to suit the theme.
Many friends, who knew of my fondness for the LA/Beverly Hills/San Francisco Hakkasans, were quick to ask me what I thought of the restaurant in Shanghai. It did set me pondering as to why I was not quite raving. Then I had it.
If I were abroad and homesick, Hakkasan is heaven sent. In China, however, it takes on a slightly foreign tone and I cannot help but compare it to the local specialists. I have to add that's extremely unfair.
I applaud Hakkasan and its founders for bringing real Chinese cuisine out to Europe and the United States, and I will be forever grateful to them for having assuaged my cravings for Chinese as a homesick journalist away from Asia.
It will have to find its own levels in Shanghai, where the best of international and Chinese cuisines rub shoulders at such close proximity. I'll tell you how Hakkasan scores above all else. It is the ambiance, the setting, the music, the lighting, the wine list, even the tea list. They make dining a complete experience, even down to the chili brushes.
IF YOU GO
Hakkasan
Address: 5F, 18 On the Bund Zhongshan Dong Yilu (Near Nanjing Donglu)
Telephone: 021-63215888
Golden Week Set Menu: 888 yuan plus taxes for two.
Dumpling selection: Hakkasan assuages homesickness with little bites. photos provided to shanghai star open sesame: Sesame-crusted balls with a delightful surprise hidden inside. gilded duck: Crisp Peking duck skin garnished with caviar.