Hot,hot,dip,dip...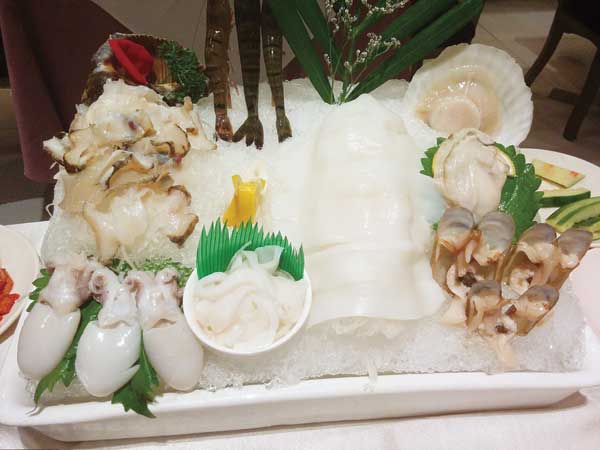 FRESH ON ICE: Dolar Shop's seafood platter features squid, cuttlefi sh, prawns and a good variety of shellfi sh, including oysters. [Photo by Judith Huang/For Shanghai Star]
It used to be a winter season special, but summer's just as good a time to indulge in a hotpot. Pauline D. Loh tells you why.
Hotpot is also known as steamboat in some southern Chinese cities, and in Hong Kong, they call gathering around a steaming cauldron of hot soup "da binlou", or "hitting the side of the pot".
That euphemism refers to the way plates of raw vegetables, seafood and meat are crowded around the pot and diners then drop their choices into the soup to cook.
In the past, before the days of air-conditioning and climate-controlled interiors, hotpots were only eaten in winter when the glow from the bubbling pot and the heat of the soup kept diners nice and warm.
These days, specialist hotpot restaurants flourish in major cities all over the country, and they do roaring business all year round, regardless of season. Cantonese hotpots are distinguished by their "tonic" base soups, while the Chong-qing and Sichuan hotpots are known for their mouth-numbing spiciness and a thick layer of rich red oil floating on top.
The Northeastern variety features lamb shanks and mutton soup in a pungent broth heavily scented with spices like star anise and cumin.
Shanghai has every variety from all the regions, and no matter your budget, there is a hotpot restaurant to suit your wallet.