Foreign leaders opt for local flavors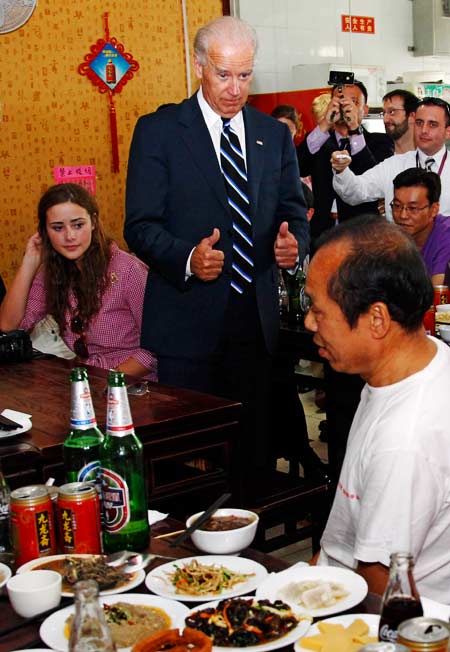 US Vice-President Joe Biden (center) gives a thumbs-up during lunch at Yao's Chaogan'er Restaurant in Beijing in August 2011. [Ng Han Guan/AFP]
Visiting foreign leaders and their ilk often opt for China's specialties, rather than their home fare. Consequently, the dinner table has become a platform for connecting to ordinary locals. Ye Jun reports.
US first lady Michelle Obama's family made headlines Saturday night when they dined at Da Dong Peking Roast Duck Restaurant.
The first lady had booked a seat but didn't join her mother and daughters at the table.
Like all mortals, heads of state, their spouses and other leaders-and their families-of course have to eat during their time in China. And many opt to go local to get a true taste of China.
Former first lady Laura Bush, for instance, dined at Tianjin Baijiaoyuan, a specialized jiaozi restaurant in Beijing's Xidan area on Nov 20, 2005.
Jiaozi, or boiled dumplings, are a typical food in China. They were traditionally eaten as a special treat during Spring Festival, China's most important celebration. But they're so frequently consumed now that they've become a common meal.
Tianjin Baijiaoyuan is a rather affordable diner, offering both jiaozi and popular home-style fried dishes. The eatery earned a Guinness World Record for producing 229 kinds of jiaozi.
Bush planned to spend 40 minutes on the meal but stayed in the restaurant for 70. Her entourage tried jiaozi with more than 10 stuffings, including pork with celery, tomato and egg, and mutton with coriander. She told management her favorite was pork with beans.
The first lady also ordered fried dishes-mushrooms with soy-marinated pork ribs, quick-fried chicken with walnuts and bean paste, and tender corn kernels with pine nuts.
Bush relished the meal so much that she visited the restaurant again, during the 2008 Beijing Olympic Games.
The restaurant's menu also shows photographs of former US secretary of state Colin Powell, who visited in 2004.
Following Bush's visit, the restaurant developed a "Mrs Bush set menu", attracting throngs of new local customers.
Visiting foreign leaders are usually officially received at a state banquet at the Great Hall of the People or treated to a presidential "home dinner" at the Diaoyutai State Guesthouse.