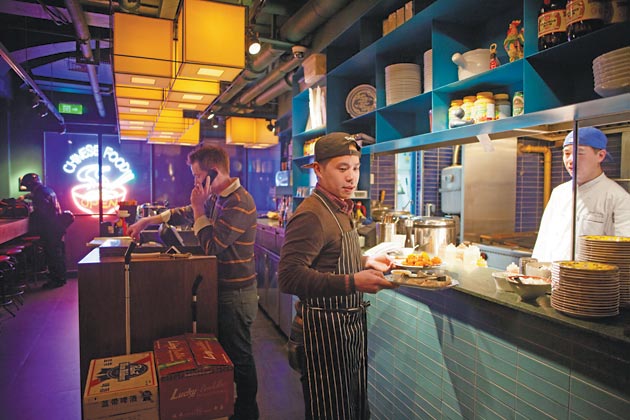 The chef at Fortune Cookie has been trained by chefs in New York.
Fortune Cookie's demographic now includes more local Chinese patrons, who account for about 35 percent of diners, says Rossi.
Sun Jie, who has studied in London for four years, says the food here tastes different from that in London's Chinatown. The dishes in London taste more spicy, while Fortune Cookie dishes are sweeter.
"It seems that there are many genres of Chinatown dishes-American ones, British ones, French ones. I think Chinatown cuisines are actually fusion dishes," says Sun, an accountant in Shanghai, adding that the only Chinatown-style Chinese food he has found in China so far is at Fortune Cookie.
Zhao Xiaonan, a 32-year-old financial consultant, says he is quite excited to have his first encounter with such food at Fortune Cookie.
"Many times I've seen my favorite characters on American sitcoms such as The Big Bang Theory and Friends ordering Chinese food. The food packed in square boxes, and the fortune-telling notes from cookies look quite foreign to me actually, and the names of the dishes are never heard in restaurants in China," Zhao says.
The best-selling dishes at Fortune Cookie are General Tso's chicken and broccoli beef.
Zhao's fortune reads: "You'll marry a supermodel." This makes him quite happy.
But in the early days of Fortune Cookie, fortunes did not come easily.