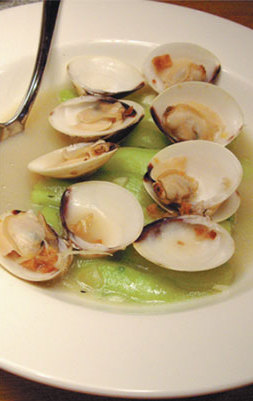 The restaurant features a variety of authentic Taiwan cuisine.
I love the casual vibe of the restaurant, with its combination of long communal tables and smaller ones orbiting around it. Hardwood flooring and pendant lamps in the shape of giant fez hats are dotted with colorful tiles.
A quick scan over the menu revealed that dim sum was available, which was a novelty as the Central branch didn't offer such delicate delights. Most of my friends start off with bubble tea, a Taiwanese concoction of icy milk tea and teeny tapioca balls served in a mason jar with convenient handle. I have never been partial to this drink, so I opt for iced chrysanthemum and pu'er tea instead. It is refreshing, with a chilly spin on a classic drink that's the ideal accompaniment to the bamboo baskets quickly mushrooming on our table.
We begin with some staples: Taiwan soup dumplings, vegetable dumplings and pineapple buns. The pineapple buns are easily my favorite as the combination of sweet and savory was balanced with tender pork and a crisp exterior. The vegetable dumplings are neatly wrapped up, making its presentation noteworthy.
Three-cup chicken mochi balls are Lin's personal favorite. The black and white sesame-coated mochi exterior gives way to saucy, moist chicken. But I prefer the three-cup chicken on its own; it is strewn with basil leaves to give it an additional edge of freshness.
Taiwan pork burgers are another winner. In sweet and doughy rice-flour buns, sandwiches are crammed with melt-in-the-mouth pork belly and a smattering of preserved lettuce for textured interest.
Kung pao prawn is a seafood version of the more popular chicken dish, and its hint of heat helps to balance the rich sweet-and-sour flavor without overwhelming the plump shrimps' just-cooked firmness.
The classic pork chop is served on a metal rack and conveniently sliced into strips. Its crunchy exterior gave way to succulent morsels that are seriously addictive.
Popcorn chicken, silk melon with clams and spare ribs with pears were all yummy; the clams' broth was worth slurping up after all the squash and seafood were gone.
Despite being stuffed to the gills, I was disappointed that Taipei's famous black-pepper buns are not on the menu. I mentioned the omission when chatting with Lin, and he explained that the buns are quite complicated to make.
I'm keeping my fingers crossed that people will enjoy The Night Market as much as I do - meaning that Lin will be encouraged to add pepper buns to his menu.
IF YOU GO
The Night Market
Shop 1028 A, 1/F, Elements, 1 Austin Road West, Kowloon, Hong Kong.
852-2897-2292