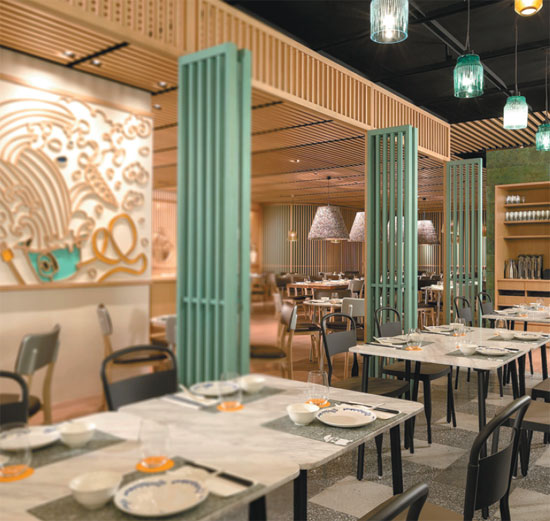 The Night Market in Kowloon, Hong Kong has decorations of a simple color palette of natural wood with aqua highlights. Photos by Rebecca Lo / For China Daily
The graffiti-laced hoarding at the top of the Kowloon MTR station escalators was the first thing that caught my eye. I use these escalators to get to Elements in West Kowloon a lot, and renovations announcing a second branch of The Night Market piqued my interest.
I was already a fan of the original in Central, both for its food and its good looks courtesy of wife and husband designing duo Alexi and Michael Young. They imbued the space with a funky industrial feel that is also warm and inviting, and I wondered what they would do with the West Kowloon edition.
Despite my usual rule of giving new restaurants at least three months to get their act together before I sample, my curiosity got the better of me. As I hurried to join a group of friends for lunch, I rationalized that Taiwanese entrepreneur and The Night Market founder Allen Lin have already been operating the Central location since 2009. I was sure that everything would be running in tiptop shape.
I was certainly not disappointed. The hoarding had been replaced by a wooden vertical screen with cutouts of stylized fish, chicken, noodles and all the delicious dishes that diners can enjoy within. The 325-square-meter space is kept restrained to a simple color palette of natural wood with aqua highlights, to allow the food to take center stage.
I have to give a shout out to Lin for picking the ideal location for a Taiwanese restaurant. Although not nearly as popular as Shanghainese cuisine currently, Taiwan fare has never fallen out of favor in Hong Kong. Its combination of noodles, dumplings and other specialties derived mainly from Fujian dishes is perfect for sharing. Hungry office workers would find the friendly environment, affordable prices and more than 100 menu items worth return visits.