Potato cakes
Soon is lunch time...
What for a lunch today? Ok, I had it for yesterday dinner, but for You is still time to make it for a lunch!
When I mentioned before about Polish traditional cuisine … I almost instantly remembered taste of potato cakes.
This is also very simple recipe, and can be done in many variations, served as a single dish or with some sauces.
Amazingly… it fits to Chinese dishes too!
This cakes can be served "sweet way" – with sugar, or as part of the "main dish" – with some vegetables, meats or sauces.
And that second way is the key to mix it with Chinese style cuisine.
Well fried potato cake is also close to traditional Chinese cuisine by mixing textures and tastes.
When served fresh and hot – it is crispy outside, and soft inside. Have some hint of sugar, and some of salt.
Served with sugar or sweet sauces – can contrast with onion taste inside, creating interesting combination.
OK, stop talking "about possibilities", time to move to work!
Preparation: 15-30 minutes (depending on used tools and skill)
Cooking: 2-3 minutes per one cake, can be fried few at one time off course.
Skill: simple
Ingredients: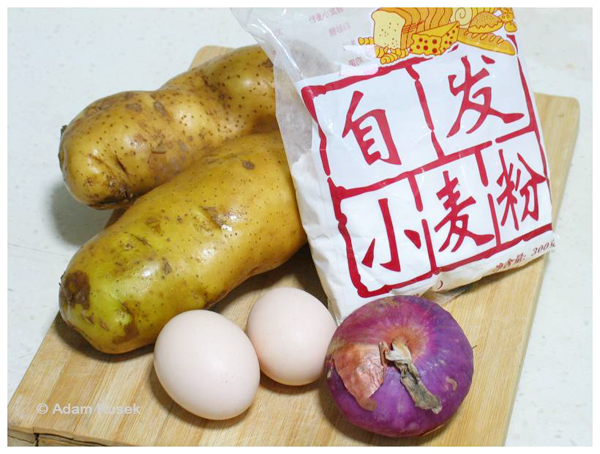 - potato(es). Available on many green-markets.
- eggs (one for each two big potatoes or for each "jin" of potatoes, here we have about 1kg potatoes, so 2 eggs are OK)
- wheat flour (for shown quantity You will probably use 150-200g)
- onion (one medium onion for each 3-5 big potatoes, this one was enough for about 1kg of potatoes)
- sugar and salt
- oil (for frying)
(using quantity shown on picture You can feed 2-4 adult Bears )