High steaks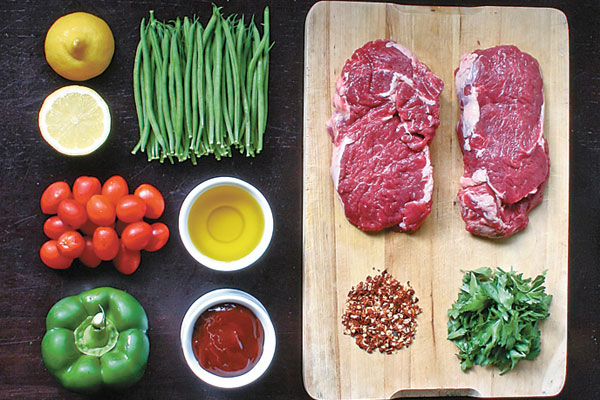 OBE's organic beef is very lean, with the fat on the outside - unlike Wagyu beef which is marbled throughout. Photos Provided by Plug to China Daily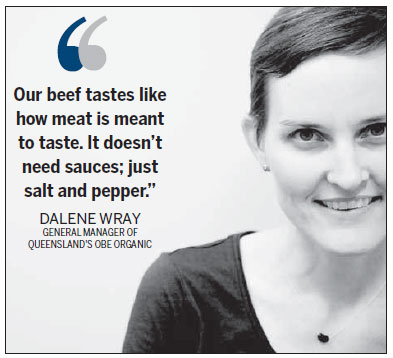 Happy cows give the best meat, and in Australia's arid Channel Country, the free-roaming animals choose their own diet. Rebecca Lo finds out why it is some of the purest protein you can get in Hong Kong.
Related: Texture, color, flavor
Dalene Wray says she is just glad to be where it is happening. In 2011 the general manager of Queensland's OBE Organic made Hong Kong her permanent home with her husband and daughter, after a stint in Beijing in 2009.
At the same time, she also set up the company's regional head office here to nurture new markets with her USDA organic certified beef.
"Living in Australia, it's hard to spot trends by only visiting this region," Wray explains. "There is so much opportunity to learn every day through conferences and events that may only happen once a year in Australia."
Wray is a firm believer in living and eating healthy.
She comes from four generations of farmers and grew up in Birdsville in Australia's Channel Country with 250 sq km of semi-arid grassland as her backyard. This vast area stretches from Queensland to certain parts of South Australia, the Northern Territories and New South Wales.
Her father, David Brook, is OBE's group chairman.
"We have 35,000 heads of cattle, about one head per square kilometer," she says. "The country is so arid that there is actually very little grass. My mother and father are both pilots - we have two planes to round the animals up with four to six people on the ground."
Due to its bare 120 mm of annual rainfall, cattle raised in the Outback are not subjected to as many parasites as in wetter climes.
"There is less disease," Wray says. "The cattle choose their own diet. Channel Country is a unique region with plants that have special tastes, like our salt brush and pepper grass. If the cattle feel like going for a protein bush, they are free to do so. In a feed lot, the animal has no choice."