A little Zucchini for your grated cheese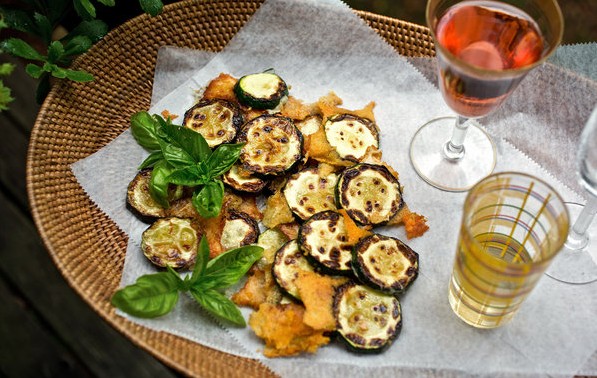 [Photo/The New York Times]
Why there is no cult devoted to crunchy fried cheese is beyond me. It's as rich as bacon or pork belly, as crisp as chicken wings and as tempting as a foie gras doughnut.
But whatever the reason, it's not something I've been seeing on trendy restaurant menus.
This means that when I get a hankering for it, I have to make it at home (the mozzarella sticks at my local sports bar don't cut it).
My fried cheese recipe of choice is an Italian crisp from the Friuli region called frico.
It's exceptionally easy to make. All you do is take some good hard cheese, grate it, spread it in a nonstick pan and let it melt until it turns golden. Montasio is traditional, but Parmesan, asiago or a young, not too salty pecorino will all work well, too, so I use whatever I have.
You can form frico into small individual crackers for neater serving, or you can make one large cracker the size of your pan and break it apart as you devour it. I usually make the big one because it's easier, though the smaller ones are more elegant. Either way, it can be made several hours ahead and served at room temperature.
Frico on its own doesn't need much embellishment. All it truly requires is a chilled cocktail or a glass of Italian white wine served alongside. But this summer, I had the idea to add zucchini.
Unlike frico, zucchini benefit from embellishment, particularly of the cheesy kind. I often sprinkle grated cheese on my zucchini, so adding zucchini to my grated cheese makes sense.
First, I browned thin rounds of zucchini in olive oil, then I topped them with the cheese and let them cook. It took only five minutes, plus another minute or so to let the cheese crisp up after I turned it out of the pan.
Instead of being crisp through and through, as regular frico is, the zucchini stayed soft, creating an appealing textural contrast. It also lent a lovely sweetness, mitigating some of the full-on saltiness of the cheese.
Less saltiness per bite meant I could eat even more zucchini frico than regular frico. It was also pretty, with large polka dots of the squash covering the surface.
Fried cheese may be a cult of my own making, but I'm a happily devout follower.
The New York Times