Mattias Roock shares recipe for success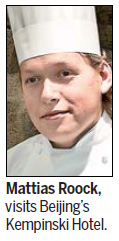 Anyone looking for an authentic Swiss or Italian dining experience in China could have had their prayers answered by Mattias Roock, an international chef who was gracious enough to share his gourmet skills, during a brief visit to Beijing's Kempinski Hotel, Nov 4 to Nov 13.
The 31-year-old Roock, who is the youngest master chef with the Kempinski Group, explained his visit by saying, "I introduced a really varied cuisine, ranging from Mediterranean dishes to Alpine tapas and hearty Swiss cuisine. One of my favorites is the halibut with asparagus, brought to life with citrusy Prosecco jelly, with an incredible basil panna cotta."
Roock, who is responsible for four restaurants and 70 employees of the group, added, "My culinary team ranges in age from 19 years to 36 and we all have the same goal - creating the best gastronomic experience possible."
"And we want our Swiss and Italian dishes here in Beijing to be authentic, so we don't adapt our food to Chinese customers but prepare it exactly as we do back in Switzerland. In this way we guarantee that we are serving only true, authentic Swiss cuisine."
When asked about his recipe for success, Roock said he attributes it to his uncompromising approach to food: "Either it's perfect or it's not, and nothing leaves my kitchen that is not absolutely perfect. Also, I always keep alert to new technology and techniques and look for new ways to cook."
Roock has a wealth of experience under his belt and has won a number of awards around the world, and says that he considers the taste of food as the primary objective, and that his greatest reward comes from the smile of a satisfied customer.
"I can't emphasize enough just how important passion is for this job," he concluded. "I'm very passionate about what I'm doing. My father and grandfather were chefs so it's in my blood."