Caprese antipasto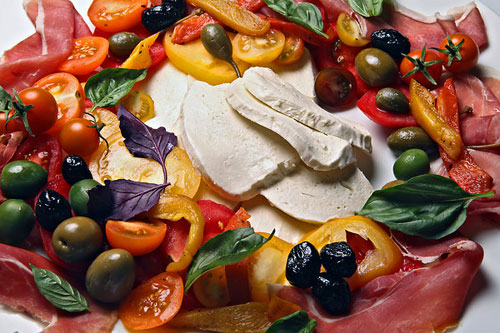 Caprese antipasto [Photo/The New York Times]
TOTAL TIME About 30 minutes
Ingredients
Related readings:


 Haute Italian with color


 Hunan charmer in Shanghai


 Traditional Italian pizza
2 ripe bell peppers, 1 red and 1 yellow if possible
Salt and pepper
Extra-virgin olive oil
1 pound fresh mozzarella, at room temperature
2 pounds ripe tomatoes, in assorted colors if possible
1/2 pound cherry tomatoes, in assorted colors if possible
Handful of caperberries, or 1 tablespoon large capers, rinsed
6 thin slices of prosciutto, more if desired
Handful of basil leaves.
Preparation
1. To roast peppers, set them directly in the flames of a stovetop gas burner turned to high, or over hot coals if you happen to be grilling. (You could also roast under the broiler, with peppers as close to heat source as possible.) Turn peppers with tongs until skins are blackened and blistered all over, 5 to 7 minutes. Remove to a plate and let cool. To peel, cut peppers lengthwise. Scrape seeds and veins away with your knife, then turn peppers over and scrape away charred skin. Slice peeled peppers into 1/2-inch ribbons and place in a small bowl. Season with salt and pepper, then add 1 tablespoon olive oil and toss. (Peppers may be roasted up to a day ahead.)
2. Cut mozzarella into 1/4-inch slices. Cut tomatoes into 1/2-inch slices and halve cherry tomatoes.
3. Arrange mozzarella slices in the center of a large platter. Surround with tomatoes and sprinkle lightly with salt. Add roasted pepper strips, caperberries and olives. Drape prosciutto around the platter. Garnish with basil leaves. Drizzle generously with olive oil and serve.
YIELD 4 to 6 servings.
The New York Times