Stocking style is back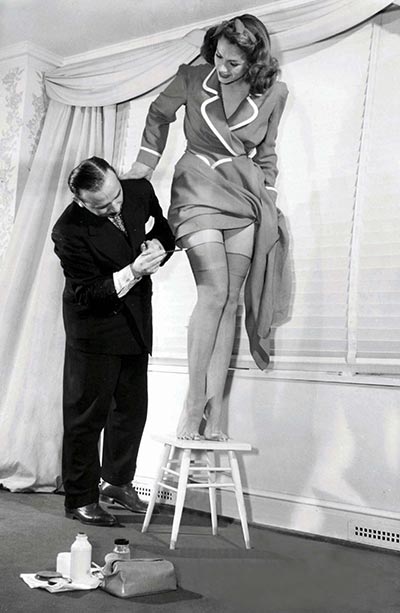 During the Second World War, there was a nylon shortage; here, a woman stands on a stool while a man carefully paints on her stockings. [Photo provided to China Daily]
But pantyhose didn't truly burst onto the fashion scene until the miniskirt craze of the '60s. Around the same time, tights were being produced by British manufacturer Aristoc and expanded in popularity after the invention of spandex, a synthetic fibre that allows leg garments to stretch. Another important innovation in 1977 came courtesy of an unusual source: Julie Newmar, the original Catwoman actress in the 1960s Batman TV series. She's credited with patenting a special type designed to accentuate a woman's behind – the "derriere-shaping" pantyhose. In 1977, Newmar famously explained to People magazine: "They make your derriere look like an apple instead of a ham sandwich."
In the '80s and early '90s, hosiery came in a wide range of colours, patterns and fabrics, and became the defining feature of a professional woman's daily style. However, as office dress codes became more casual, many women abandoned pantyhose and embraced the freedom of bare legs.
Fashion always goes in cycles, so it's not surprising that the spotlight has shifted back to pantyhose again in recent years – it's been seen on everyone from Hollywood stars to Her Royal Highness. In the last century, hosiery was not just an important part of a woman's wardrobe, but also a statement of a proper lifestyle.