Stocking style is back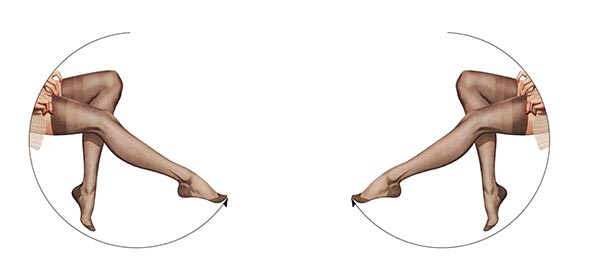 [Photo provided to China Daily]
However, nothing can stop women from pursuing beauty. If they couldn't buy nylon stockings, someone figured out that they could paint them on. Leg cosmetics created a fashion storm during wartime, allowing women to do make-up from their toes to their thighs, thus achieving the illusion of real stockings. Liquids, lotions, creams and sticks were all used to mimic a noticeable sheen.
Numerous brands got on board with "canned hosiery", including Frances Denney (with Leg Make-Up Film), Revlon (Leg Silk), Helena Rubinstein (Leg Stick) and Harriet Hubbard Ayer (Stocking Lotion). There were even leg make-up bars, where women could purchase the cosmetics or get advice on how to apply them to their legs. Following the end of the war, though, nylon stockings were restocked on shelves and endless lines reappeared outside the hosiery shops.
There was only one problem – without squeezing into garters, there was no other way to hold the stockings up in the '50s. Among numerous patents filed, the waist-to-toe leg garment, which we now know as pantyhose, was invented by a man in 1959 who created it at the request of his then-pregnant wife, who found it difficult to manage her stockings and garter belt over her expanding belly.