Designers go retro with a headscarf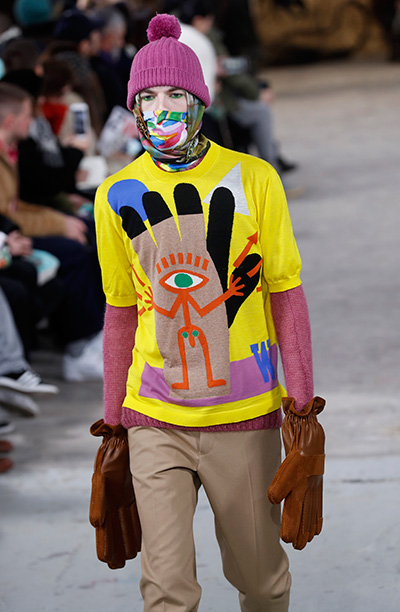 A model presents a creation by Walter Van Beirendonck at Paris fashion week. [Photo/Agencies]
That threat was ever-present in the Belgian designer Walter Van Beirendonck's show, with all of his models masked with colorful scarves that hid the face.
Some looked like rioters-the world's best-dressed rioters-others like hipster Tuaregs and still more had shades of balaclava-ed SWAT team special forces operatives about them.
The bearded designer, known for his ability to reflect society's shifting moods, drew huge smiles by matching them with hilariously oversized leather and woolen gloves.
His compatriot Glenn Martens of Y/Project had great fun with Napoleon, Josephine and Henry VIII football scarves, saying that they were all pop stars in their different ways, with the Tudor monarch the "Kanye West of his times".
Over at Balenciaga, a similar playful spirit was at work. The brand's wunderkind designer Demna Gvasalia is known for his talent for reclaiming corporate logos, making a reworked yellow DHL T-shirt a fashion must-have.
His trademark oversized look was also there with shin-length double-breasted coats that had more than a hint of vintage KGB about them, and charity-shop-chic suits matched with trainers.
While Gvasalia seemed to play fast and loose with convention, the brothers Glemarec of Icosae made their Paris fashion week debut with a paeon to traditional tailoring.
Related:
China fashions on show in Paris