Designers go retro with a headscarf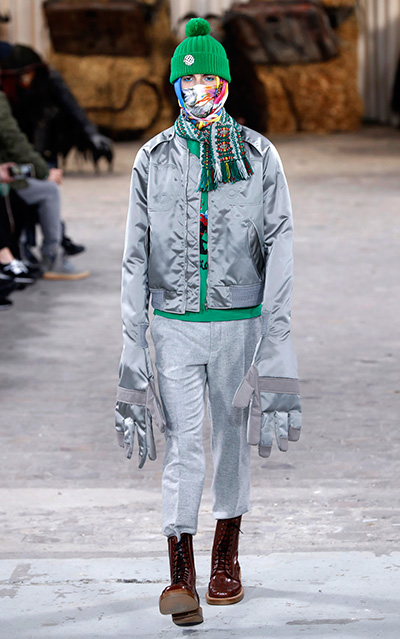 A model presents a creation by Walter Van Beirendonck at Paris fashion week. [Photo/Agencies]
It's time to raid Granny's wardrobe. The headscarf knotted under the chin is back on the Paris catwalk.
The good news this time is that men can wear versions of them, too.
Japanese designer Hiromichi Ochiai of Facetasm dared to resurrect the most humdrum of domestic of looks-one that admittedly still has its adherents, including Britain's Queen Elizabeth II and a dwindling band of pious matrons-for his autumn-winter menswear show.
As he says himself, in fashion "anything is possible".
The avant-garde creator sent four of his female models down the runway in floral "granny scarves" in his mixed-gender show, a growing trend in this season's collections.
"We are fashion libertarians associated with no specific roots, identities or classifications," he declares.
The floral patterns in the scarves were picked up in hoodies for the boys, which were worn rather menacingly with face masks.
While the look might pass in Asian cities where people are worried about pollution or germs, it came across as the sort of garb that might get you arrested in Paris or other European capitals living under the threat of terrorism.