Korean designer's show brightens Beijing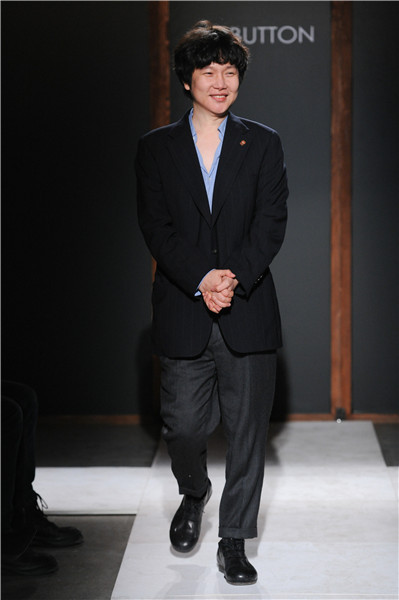 Korean designer Park Seung-gun greets the audience after his first show in the Chinese mainland on Dec 15, 2016. [Photo provided to chinadaily.com.cn]
He is seen as an emerging designer of South Korean, and has just been awarded "Best Designer" at the Seoul Fashion Week in October.
"When I was designing this collection, all in my mind was the word 'ready-made'. Like what French artist Marcel Duchamp did, I want to select existing fashion items and show the artistic side of them through my modifications and presentation," he said.
Park is influenced by Western culture and fashion, which can be seen in his 80s-inflected dresses.
He is a big fan of Hollywood celebrity Madonna, and even the name of the brand pushBUTTON comes from the Madonna song "Hollywood", which includes the lyrics: "Push the button, don't push the button, trip the station, change the channel".
"I love to mix and match the ancient and the modern, the foreign and the local," he said. "You will see originality and boldness in harmony in pushBUTTON creations. That's why I choose to hold the show at The Temple Hotel in Beijing."
Park believes that Chinese people are very open and willing to try interesting designs and his brand will fit the market well.
So far, pushBUTTON is stocked in some buyer's shops in Beijing, Shanghai, Guangzhou, Chongqing, Zhengzhou and Hong Kong.
Park said that he hoped to open the first pushBUTTON store in China soon.