Korean designer's show brightens Beijing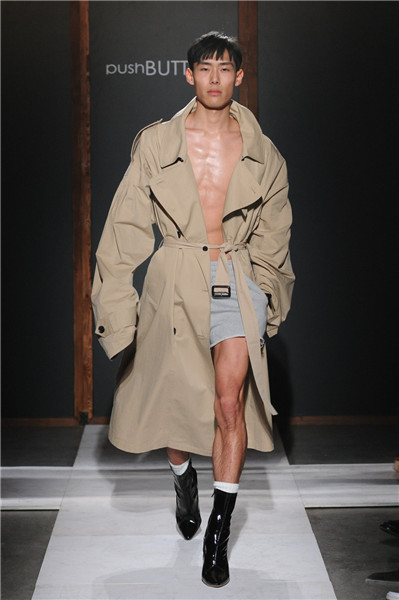 A model wears a pushBUTTON creation at The Temple Hotel on Dec 15, 2016. [Photo provided to chinadaily.com.cn]
Whether you follow Korean fashion or not, it is hard to ignore the talent of designer Park Seung-gun.
Park is the creative brain behind the South Korean brand, pushBUTTON, which was created in 2003 and is loved by celebrities around the world, including Rihanna, Paris Hilton and popular South Korean actress Kong Hyo-jin.
The brand is known for its playful and bold ready-to-wear clothes, which often make use of whimsical and creative prints.
The brand's first fashion show on the Chinese mainland took place last week at the 600-year-old Temple Hotel. A full house of fashion journalists and celebrities, including Chinese super model He Sui, enjoyed the 10-minute show.
The 2017 Spring/Summer collection is a mix of men's and women's clothes featuring bright colors, quirky prints and fun, off-kilter details such as high-heeled boots for men.
"When the brand was first created, it didn't catch too much attention," Park said in an interview before the show. "People would go like 'what the hell is this?', and now they would ask 'why is it designed this way?' People are becoming more open, so I have more room to be creative."
The soft-spoken Park is a self-taught designer with no formal education in fashion, which might have allowed him to use his full imagination with no restrictions. His designs can be quaint, loose, laid back and even crazy, but nothing close to boring.