Eco-fashion hot in Guizhou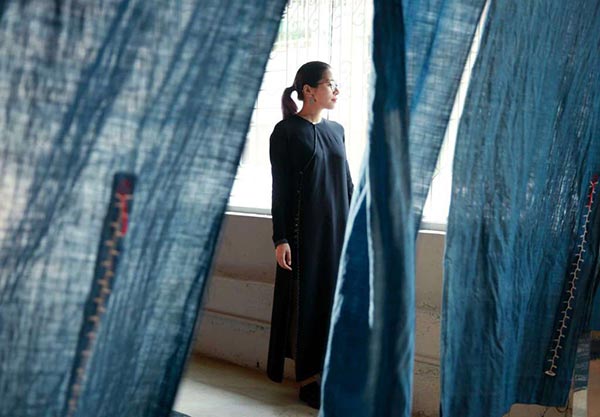 Hong Kong-based designer Sharon de Lyster wears a dress by her fashion label Narrative Made. [Photo/Agencies]
This fall, she launched a limited edition of scarves, squat wooden stools and hexagonal wooden wall tiles, the latter two decorated with batik patterns normally used only for fabrics. She's also working with a Shanghai company to create furniture that uses artisanal fabrics and woodwork.
Back in the workshop, after finishing her pattern, Pan dips the silk and cotton fabric three times into a vat of organic dye made from indigo plants grown higher up the hillside. Finally, the wax is melted away to reveal the scarf's design. It will eventually sell for $235 online or in boutiques in Hong Kong and Shanghai.
Inthenext room, two village women weave fabric by hand, using a wooden spinning wheel strapped on to one of them. Outside, the valley's lush green rice terraces and wooden houses stretch into the distance.
Pan, 47, says she's eager for more work from Ng and the steady income it provides, especially since her husband died earlier this year. She learned batik skills from her grandmother, but laments that her daughter and other young villagers are not interested.
"Young people don't want to learn (the skills). They want to go to Guangdong," she says, referring to the wealthy province near Hong Kong where factories still employ millions of workers from the countryside.
"If people see that we are doing it and definitely making money, then they will want to come and have the patience to learn," says Pan. "Things that are machine made are cheap but they do not look good," she adds.