Finding joy in jewelry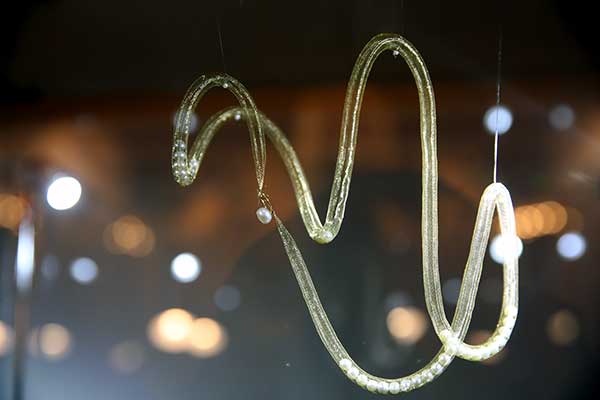 Jewelry pieces by artists from around the world are on display at the ongoing Beijing International Contemporary Metal&Jewelry Art Exhibition.[Photo by Jiang Dong/China Daily]
"I believe jewelry fascinates, annoys and tickles," says Bjorkman. "I make jewelry that questions unwritten structures and (I) show jewelry that attracts others to feel."
Award-winning Thai designer Noon Passama Sanpatchayapong showcases a collection of chain-inspired jewelry. In the collection, she explores new ways of connecting chains, dividing, sequencing, sizing and layering the components. The result is a series of bracelets and necklaces crafted from rigid clay and silver.
"For me, making is thinking," says the designer. "I was looking for a form that is not specifically related to anything, something that I am not used to. It is a shape that you can interpret by yourself. It's not interesting to me if it looks like something as familiar as a leaf."
Seliena Coyle, a tutor at Irish National College of Art and Design, turned to her native culture but took it to the next level. She combines silver with bog oak, a material unique to Ireland. The bog oak was buried in peat bogs thousands of years ago and preserved from decay, she says. The delicate contrast between the two materials gave rise to a collection of elegant, modern brooches.
Coyle says that although Ireland is known for the quality of its jewelry, she feels the innovative designing of products is often neglected there.
Globalization has led to the homogenization of design that is seemingly untouched by individual culture or practice.
"I have made a deliberate attempt to construct a new contemporary Irish aesthetic," she says.