Prada gets a makeover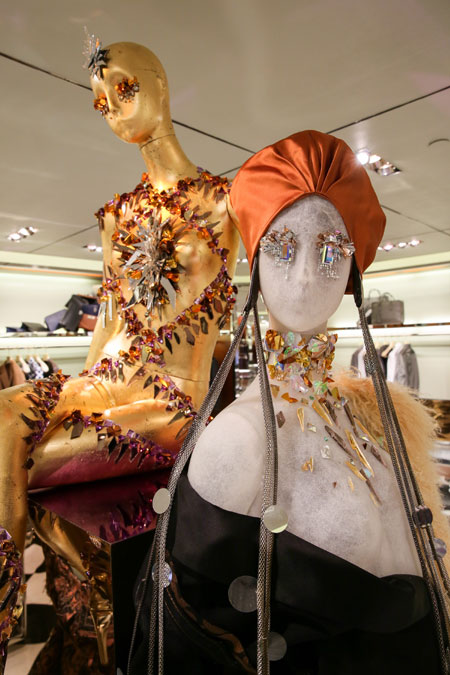 Based on the 2015 spring/summer collection, Prada's new store designs by some of the most acclaimed costume designers in the film industry, were shown for the first time in Beijing last month. [Photo/China Daily]
Arianne Phillips, stylist on Kingsman: The Secret Service, was responsible for the re-design of the Shin Kong Place store.
Phillips is a two-time Oscar nominee for Walk the Line and W.E.. She was also nominated for the British Academy of Film and Television Arts awards for A Single Man. She is also Madonna's stylist.
Phillips turned the store into a "cinematic dreamscape that tells stories and creates characters". Natural elements like purple sand, rocks and trees, as well as moss and orchids, adorn the store windows.
"Nature to me is real beauty," she says adding that the latest collection is as close to beauty as nature.
Now, mannequins in the store wear coats covered in patchwork and tribal designs, inspired by Prada's new collection.
Phillips recently directed her first film, a five-minute short for Prada called Passage. The movie, shot in the desert in California, depicts a girl's conceptual journey from one place to another.
The movie aims to give another view of the collection, she says.
Michael Wilkinson, who designed for the movie American Hustle, and his partner Tim Martin brought their work from Prada's Broadway store in New York to its store in China World Mall. They transformed the venue into a party from the 1970s, a great period of self-expression. The store is envisioned as a place where "uptown meets downtown and celebrity meets street style".
Mannequins are dressed in brocade from the Prada spring/summer 2015 collection mixed with archive pieces. The dresses are decorated with mirrored tiles, sequins and stones, as well as headpieces inspired by Peking Opera.
Miuccia Prada, designer and CEO of the fashion house, remains the biggest inspiration for the designers.
"She always surprises me. She doesn't follow trend and we want to honor that spirit," says Wilkinson.