Rihanna in queen's garb shuts down Met Gala carpet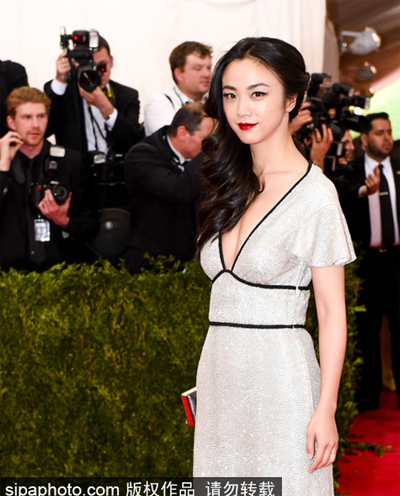 Actress Tang Wei arrives for the Metropolitan Museum of Art Costume Institute Gala 2015 celebrating the opening of "China: Through the Looking Glass," in Manhattan, New York May 4, 2015. [Photo/SIPA]
Justin Bieber showed up in a black jacket slithering with gold dragons, by Balmain. A bird of paradise adorned the bottom of "Glee" star Dianna Agron's one-shoulder Tory Burch gown.
Chinese actress Tang Wei glittered, literally, in a silver dress embedded with thousands of crystals. "I came here to see beauties," she said, "all the beautiful actresses."
The guests all seemed aware of a new ban Wintour had placed on selfies inside. They seemed to be happy to go along with it.
"I think selfies can kind of cut into the moment and the fun," said Gabrielle Union, in purple Posen, accompanied by husband Dwyane Wade of the Miami Heat. "It's not that fun if you need to document the whole thing."
Parker agreed.
"I can't tell you how liberating that is to hear," she said. "Remember when we used to just have these experiences and if we were lucky we captured them and so they'd be here (pointing to her head) and here (pointing to her heart)? I feel really happy about it frankly. We'll see who breaks the rule first."
Related:
Met Gala 2015 highlights Chinese influence on fashion