Smile, shove, snap: cameramen behind the street fashion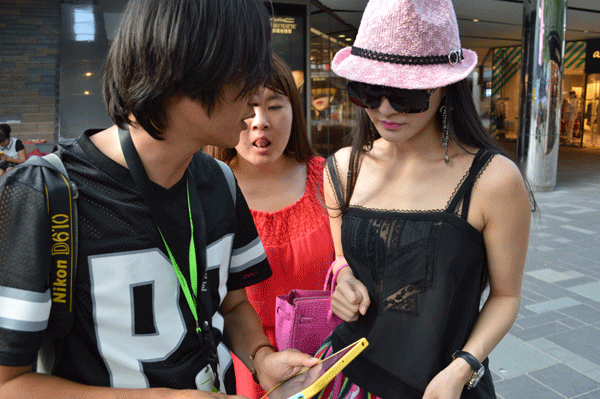 Street snap photographer Yang Yang (L) explains to a young woman how street snapping works at Sanlintun, July 11, 2014. [Photo by Jiang Wanjuan/For chinadaily.com.cn]
Part of Wu's confidence comes from the fact that street snap, a culture of fashion originating in the West, has now been widely popular in China. Wu's company, P1, has around 100 full-time photographers in different Chinese cities, including Hong Kong.
The essentials for P1 photographers are simple: a SLR (single lens reflex) camera with a WiFi SIM card and an iPad mini. After a photo is taken, the model can see the image on the iPad right away. The model can also receive the photo via email after a simple registration on spot via the iPad. All the photos will be uploaded to P1's app and website.
Compared with facilities, 21-year-old photographer Fan Guoting from Datong, Northern China's Shanxi province, feels that having the insight that discovers beauty and knowing how to help the model look their best in the photo are more important.
"I am attracted to people who dress with personality. They don't have to dress perfectly in every detail," Fan said. "For women, I often use small tricks, for example, asking them to cross their legs or face the camera sideways so as to look slimmer and taller."
Like Fan, most of the street snap photographers are ages 19 to 25. They enjoy fashion, love what they are doing, and are taking the lead in trends themselves.
Standing 171cm tall with long hair and slender legs, 24-year-old photographer Liang Ke was wearing a mask during the photo shoot. She was not filtering the PM 2.5 from the air. The mask was instead to protect her face from infection, after receiving face-lift injections which were supposed to result in slimmer cheeks.