Bright & Chic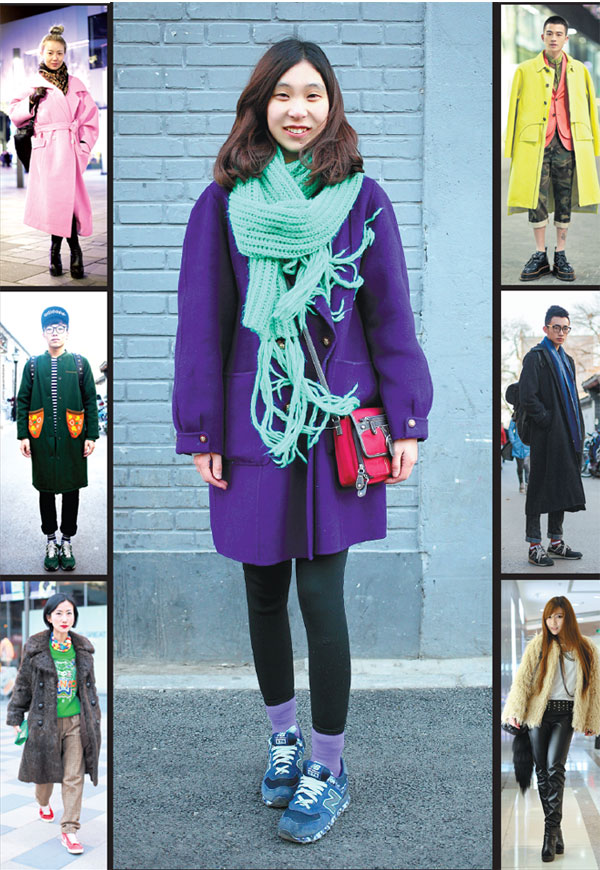 Bright colors and mix-and-match styles are embraced by many young fashionistas in China. Photos Provided by P1 For China Daily
Winter fashion brings visual as well as physical warmth to people on the street in China. Tiffany Tan savors the colorful new looks.
Winter in the Chinese capital may be cold and gray, but fashion is providing welcome warmth and color. Eye-catching pieces like red knit caps, neon green sweaters and yellow woolen coats dot Beijing's somber landscape.
Until a couple of years ago, practically everyone was garbed in black during this season - a color associated with the frigid northern Chinese winters.
"The Chinese urban population has built a sense of confidence that they didn't have before and they show this by daring to stand out and dressing more conspicuously," says Svante Jerling, marketing director of P1, a Chinese social media group that has been tracking fashion trends in Beijing, Shanghai, Guangzhou and Shenzhen since 2007.
Its trove of street photos illustrates the changes in urban Chinese fashion just as the spending power of the country's middle class has grown.
This season, the images indicate that boots, including uggs and knee-highs, are out. Sneakers (preferably New Balance) paired with a baseball cap (bearing some text) are the definition of winter cool.
Since a coat is often dressy, combining it with sneakers and a cap is "a way of mixing formal with playful",Jerling notes.
P1's database also reveals that the rise of fashion self-expression coincided with the fall of big-logo items, meant to show off a person's social status. Up till 2009, it was common to see fashionistas in major Chinese cities advertising their favorite luxury brands - as well as their wealth - via their belt buckles, scarf patterns and handbag prints.
Now, inconspicuous extravagance has become the benchmark of taste on the Chinese mainland.
Other hot designs that have gone into hiding this winter include big faux fur coats, leopard-print scarves and black faux leather leggings. Skull patterns have, aptly, also passed away.