Fashionable First Ladies: Peng Liyuan and Michelle Obama
Formal suit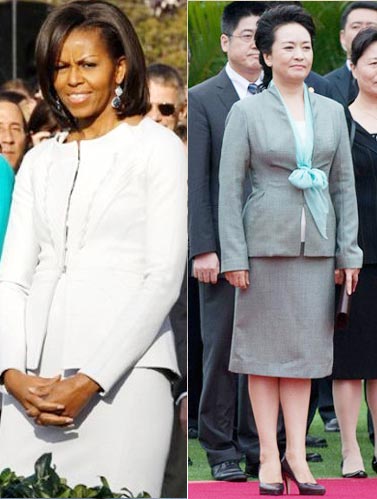 Chinese first lady Peng Liyuan (R) and US first lady Michelle Obama [Photo/Agencies]
Michelle Obama picked a baby blue suit for an official ceremony to welcome British Prime Minister David Cameron and his wife. The suit was a Zac Posen design. Peng Liyuan, on one formal occasion, wore a dark gray-and-green suit. However, she skillfully used a silk scarf, and she is known for her well-matched scarves!
Conclusion: a promotion of home brands The two First Ladies' power in fashion lies in their promotion of home-grown brands and designers.
Peng, who accompanied her husband President Xi Jinping on his first state visit to Russia, stepped off the airplane in Moscow on March 22, 2013, and caused a big stir among the country's fashion world. Her navy blue coat was from Ma Ke, a very low-key designer. Ma, now running her new label Wu Yong (which means "useless"), is now a house-hold name in China.
On the other hand, Michelle Obama wore Jason Wu, Thom Browne, and J Crew. Jason Wu is now one of the top-tier designers in the world. Before Mrs. Obama, Thom Browne was a normal fast fashion brand, but after the US first lady wore his clothes frequently on public occasions, his label became extremely popular. J Crew is also a successful example. A cashmere sweater, worn by Michelle Obama in meetings, sold out within hours once the public saw her in it.