Royal Asscher Fall Expo underway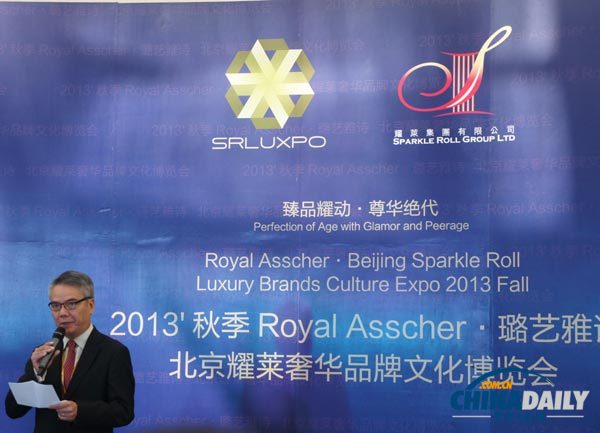 Ivan Tong, chairman of Sparkle Roll Group, delivers a speech during the opening ceremony of Royal Asscher Beijing Sparkle Roll Luxury Brand Culture Expo 2013 in Beijing's China National Convention Center on October 10, 2013. [Photo/chinadaily.com.cn]
The opening ceremony of Royal Asscher Beijing Sparkle Roll Luxury Brand Culture Expo 2013 Fall was held at Beijing's China National Convention Center on October 10, 2013.
World-renowned luxury brand designers and executives attended the ceremony representing their products and sharing stories and experiences behind their brands.
"The aim of this expo is to create a communicative platform for all players in the luxury industry," said Ivan Tong, chairman of Sparkle Roll Group during his opening ceremony speech.
Mike Asscher, vice president of the Royal Asscher Group, was also in attendance. "The Royal Asscher Group will gain more strength in the luxury market in China, and will definitely leave a clear and remarkable footprint on its road to success," Asscher said.
The expo is currently underway and will end October 14.