Royal Asscher, classy diamonds at hand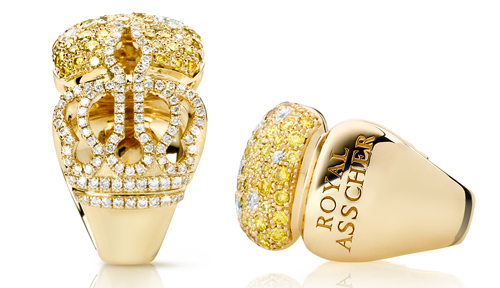 A few pieces from Royal Asscher, Fancy Royal [Photo provided to chinadaily.com.cn]
Diamonds, born from nature, are always associated with the eternity of love. After all, many people prefer to choose a diamond ring when getting married.
Edward Asscher, president of the Royal Asscher Diamond Company, gave some tips for choosing good diamonds. He said the first consideration should be color and clarity, and the beauty of its cut is also very important.
He introduced the Royal Asscher Cut, a patent-protected cut design, with 74 facets, which makes his company's diamonds brighter and more beautiful.
At the recently finished Beijing Sparkle Roll Luxury Brands Culture Forum 2013, Royal Asscher brought its extremely bright and shiny new collection "Fancy Royal" to show everyone at the expo, which was designed to honor the crowning of the new Dutch king.
Being proud of its classy diamonds, Royal Asscher is optimistic when reflecting upon the Chinese market. It is expanding its business in China, and plans to open more boutiques not only Beijing and Shanghai, but in other cities as well.
As China has already become a large market for luxury items, and more people are gaining exposure to luxury goods, the word "luxury" is not only about business, but has become closely related to the concepts of culture and spirit.
Lita Asscher, vice president of the Royal Asscher Diamond Company, and Edward Asscher's daughter, expressed her views on the meaning of luxury. "Luxury is being able to buy really beautiful things, and learning what quality is and enjoying it very much," she said at the expo.
This is Lita Asscher's first visit to China, while her brother Mike Asscher attended last year's expo. As Royal Asscher is a family business group, Lita and Mike are now mainly in charge of the US and Asia market respectively. Both brother and sister were not forced to inherit their positions within the family business, it was their decision and they enjoy what they do.
Mike Asscher said he also won't force his children to continue to work in this business. "They will have the freedom to choose," he said, "It's important to enjoy what you do."
Related special:
Beijing Sparkle Roll Luxury Brands Culture Pinnacle Forum 2013 Spring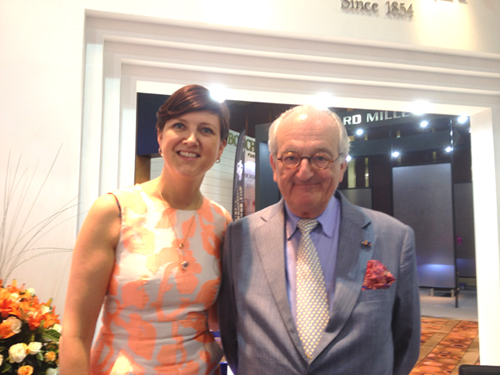 Edward Asscher (R), president of the Royal Asscher Diamond Company, and Lita Asscher (L), who is the vice president and also Edward's daughter. [Photo provided to chinadaily.com.cn]