Calligraphy scroll sets new record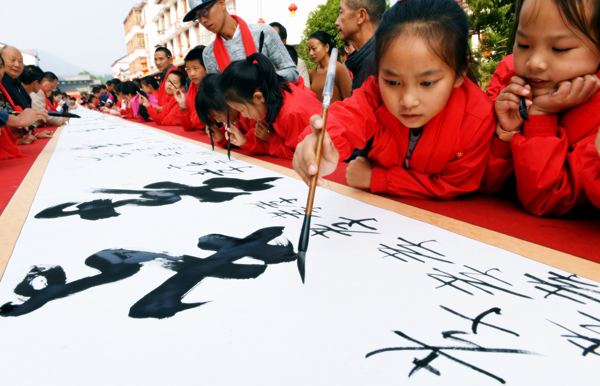 Primary students write Chinese character "Xiao", which means filial piety, on the same scroll in Jing'an county, East China's Jiangxi province, on Oct 29, 2017. [Photo/Xinhua]
Hundreds of calligraphy enthusiasts wrote thousands of Chinese "Xiao" characters, meaning filial piety, on the same scroll in Jing'an county, East China's Jiangxi province, on Oct 29.
The scroll is 209.79 meters in length, which has set a record for "the longest scroll with the same Chinese character written in a single day" according to Shanghai China Records, a group dedicated to the cataloging and verification of records.
Writing "Xiao" on the scroll was a highlight of the cultural fair in Baofeng town, Jing'an county in East China's Jiangxi province from Oct 28 to Oct 29. The fair also organized various activities to advocate the virtue of respecting and caring for the elderly.