German new media art on display in Beijing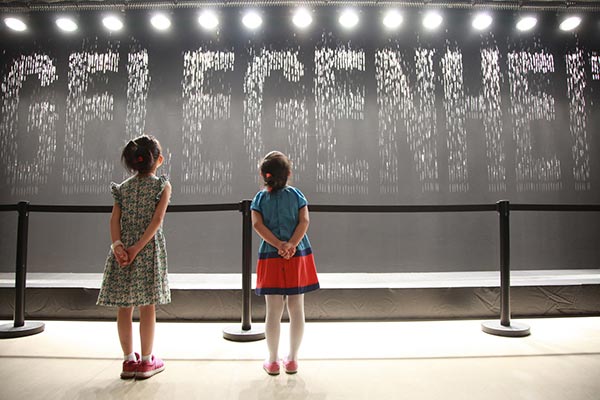 [Photo provided to China Daily]
The rise of new media art is attracting more people to museums these days with technology-enabled interactive works.
Arrested Time, an ongoing exhibition at the Today Art Museum in Beijing, is showing the evolution of Germany's new media art with six representative artists of different ages. The exhibition that runs through Nov 12, is part of the ongoing Deutschland 8 — German Art in Beijing, an event that includes displays at seven art venues in the Chinese capital.
In Jurgen Klauke's video installation, I Go I Stand 1, the human body becomes the subject through which the artist raises questions about identity and norms of society.
Another artist on show, Marcel Odenbach's Proof of Nothing, makes people contemplate the present and its ties with the past.
Harun Farocki, among Germany's first-generation video artists, shows concerns with politics in his video installation Workers Leaving the Factory in Eleven Decades. It puts together footage that depict workplaces in different periods of time in his country.
A 30-minute film, titled My Home is a Dark and Cloud-Hung Land, produced by Julian Rosefeldt, shows in a romantic way the forests as a source of happiness for Germans.
Clemens von Wedemeyer's work, The Beginning, Living Figures Dying, exemplifies his approach to art that combines documentary narration and theatrical dramatization, by which he examines issues such as low payment for extra performers that have been covered up during the development of cultural industry.
Hito Steyerl reflects on education in the world through online videos and tutorials in the work How Not to Be Seen.
In Julius Popp's installation, bit.fall, drops of water form Arabic letters. It was conceived more than a decade ago.