Folk artist dedicated to making bird cages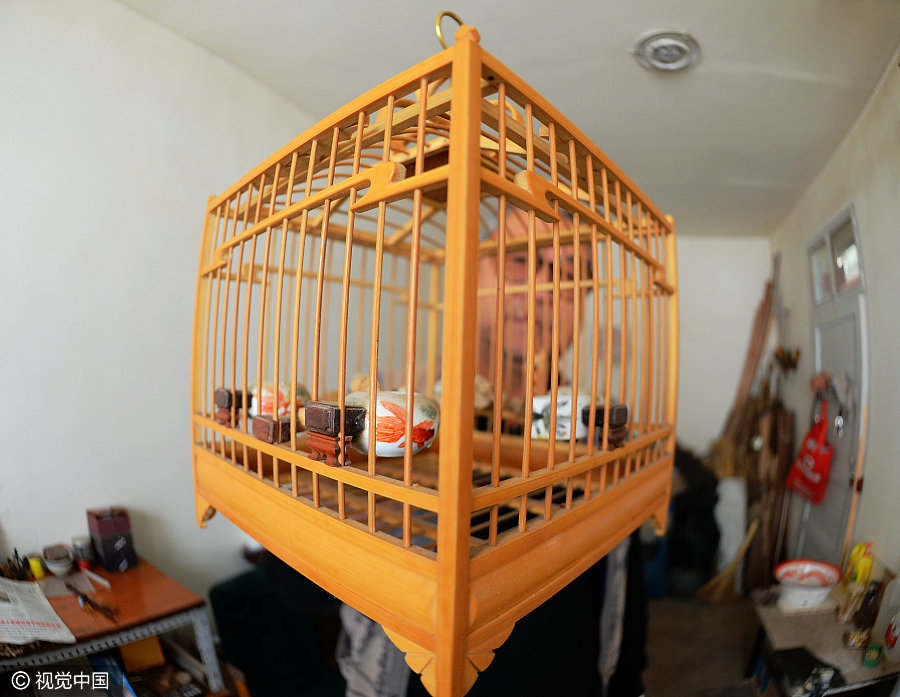 Folk artist Guo Guangming shows his handmade bird cage in Lanzhou, Gansu province. [Photo/VCG]
Guo Guangming, a folk artist from Lanzhou of Gansu province, is an expert at making bird cages, and enjoys much fame for doing so in Lanzhou city. Many bird raisers from Xining, Xi'an, Tianjin and Beijing visit Guo for his handmade bird cages.
The bird cages in northern China are always made of bamboo and are square in shape, with exquisite engravings and patterns on the cage frame and door. Its making process, however, is quite complicated. First, folk artist chooses quality materials, and then breaks, boils, dries, drills, polishes, inlays and carves the matter, before decorating it with birdseed pot and other details.
Guo, now 60-year-old, started making bird cages when he was 40 years old. Making a bird cage is arduous and dull work, which most young people are not willing to do nowadays. However, Guo is dedicated to the bird cage making technique and always works alone in his workshop. The bird cage, which Guo makes, can be used for many years without distortion, due to his reliable and high skills. Bird cage making is not only a craftsmanship, but a kind of cultural memory, and Guo's persistence to the skill will help better preserve the traditional culture.