Folk artist from Zhengzhou creates vivid figurines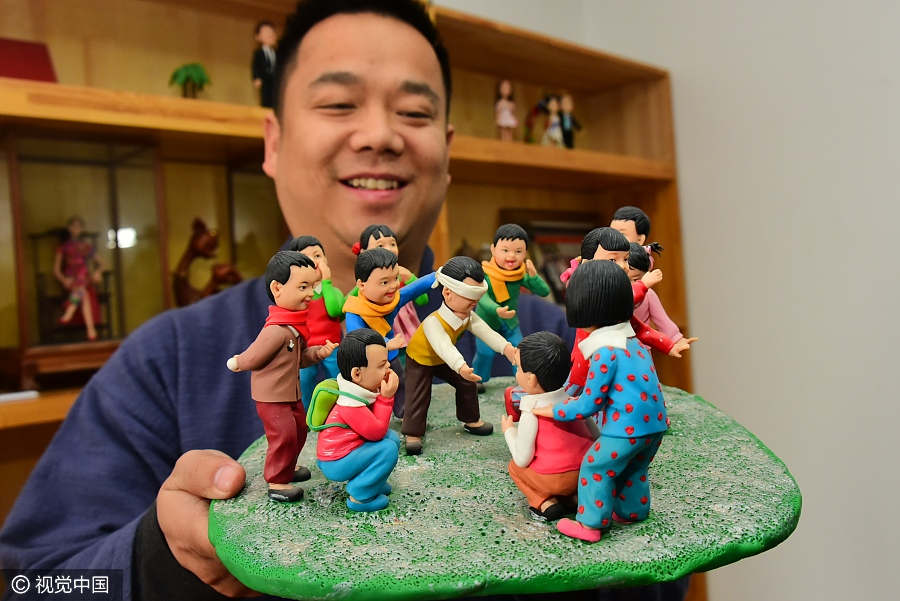 Jia Guanghui holds an artwork which portrays children playing hide-and-seek. [Photo/VCG]
Just by looking at a photograph, Jia Guanghui, a folk artist from Zhengzhou in Henan province, can make a vivid figurine. The 40-year-old is an inheritor of handmade figurine craft, which has been listed as a national intangible cultural heritage.
He once made handicrafts for celebrities such as Jackie Chan, Andy Lau, and political leaders. His figurines are pure handmade pottery artworks, and the whole process is so complicated that sometimes it takes more than 20 days to create one piece. The figurines are put through high temperature, so they can be preserved for more than 100 years without breaking up.
Among his artworks, a figurine of a monk was made only by referring to a photo sent from a temple in Northeast China. After comparing the photo of the figurine with the original portrait, it is hard to tell the difference.
Jia said that he hopes to set up a folk art museum in the future, and include the four major classical novels of China, Henan Opera, Shaolin Temple, and the famous painting Riverside Scene at the Qingming Festival into his artworks, to better inherit the classical culture and the intangible cultural heritages in China.