Chinese vase mistaken as fake sold for $1 million in UK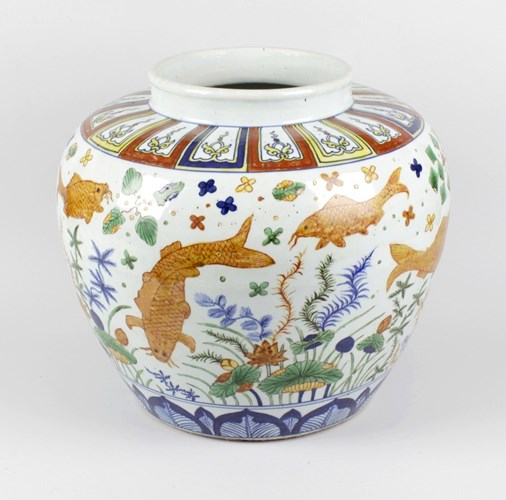 The Chinese fish vase sold at £810,000 (around $1 million) in the UK. [Photo/fellows.co.uk]
A Chinese antique vase that was previously mistaken as a replica was sold at £810,000 (around $1 million) at Birmingham auctioneers Fellows in the UK, a record price for the house.
The wucai fish vase, intricately decorated with small golden carp, lotus blossoms and undulating grass, dates from the Jiajing reign (1522-1566) of China's Ming Dynasty.
The vase's first estimated value by the auction house was £1,800, after examinations suggested that it lacked the sophistication of an original piece. Eagle-eyed bidders found that the piece actually was a 500-year-old valuable antique.
"We are delighted with the house-record sale of the Chinese wucai vase. This vase was consigned via a Chinese client," Mark Huddleston, senior specialist of the auction house said. "Bidding began at 1,000 pounds and, with a handful of telephone bidders plus the usual hundreds online."
"One bidder even flew in from Japan and has a number of these in his collection," Huddleston added.
Fellows auction house said that the low opening price was requested by the seller, and as the auctioneers doubted the vase's authenticity, that became the starting point.
Fish jars (originally made with domed covers) from the Jiajing period were among the most desirable of Chinese porcelains. The price of the fish vase sold this time was akin to fully authenticated pieces.
Related:
Le Corbusier's paintings, drawings to be auctioned in London
Qing Dynasty vase grabs high price at auction