Apple celebrates New Year with Chinese art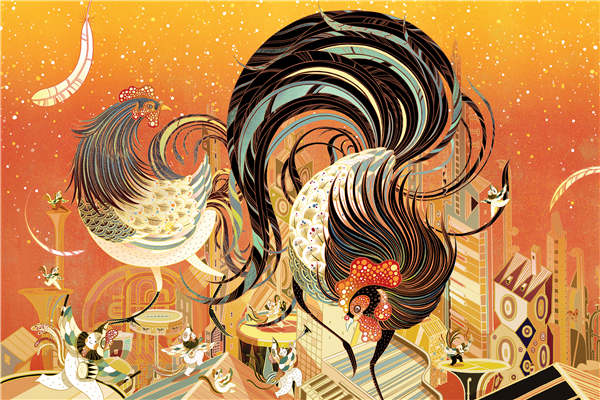 Chinese New Year pictures take on a modern look in the creations by Chinese young artists.
Unlike Ye, whose paintings have both electronic and printed versions, the other four artists' works are only online. But pictures by all five artists are shown on screens at subway stops and on skyscrapers, and mostly on phone screens to celebrate the Year of the Rooster.
"New Year pictures are used to convey people's good wishes for the coming year. They often feature fish to herald good fortune and door gods to signal peace and safety," says Ye.
The 45-year-old was born in the Guangxi Zhuang autonomous region. Her family would hang pictures of door gods and New Year paintings of various themes on walls when she was a child. Apart from those heralding good fortune, some traditional works were created based on stories from Peking Opera, literature and folk legends.
"You can learn about people's lives in different periods of time through these pictures, such as how they dressed or what they ate. The pictures are different in different places in China," Ye says.
Ye's work has motifs that make the door gods look modern. In addition, the karaoke microphone, camera, bird's cage, high buildings, wheels, cars and a flying astronaut all reflect different aspects of our society, she explains.
Parts of the massive image are made up of stickers that are small in size and feature popular motifs like Hello Kitty and Angry Birds.
"It's the first time for me to create a Spring Festival picture in such a modern way. I thought they were only made by craftsmen, who teach apprentices," Ye says.