Chinese hand-painted fans go on show in Argentina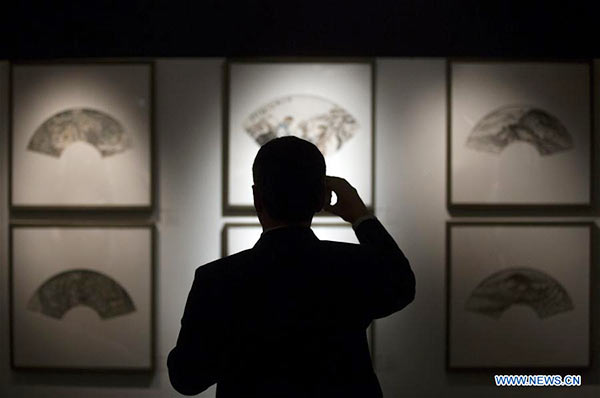 Image taken on Dec 13, 2016 shows a man taking a photo of the works displayed during the exhibition "Chinese Style: Selected works from the China National Academy of Painting", in the National Museum of Decorative Arts (MNAD) in Buenos Aires, Argentina. [Photo/Xinhua]
An exhibition of traditional Chinese hand-painted fans was opened to the public here on Wednesday, representing the most important Chinese art show held in the Argentine capital in a decade.
Titled "Chinese Style: Selected works from the China National Academy of Painting", the show featuring 60 painted fans was held at the National Museum of Decorative Arts (MNAD).
The opening ceremony held late Tuesday was attended by Chinese Ambassador to Argentina Yang Wanming, officials from Argentina's Ministry of Culture, and representatives from China National Academy of Painting and the host museum.
"We hope to promote exchanges, to have more people become familiar with our culture, to promote mutual knowledge," Zhang Jiangzhou, vice president of the academy, told Xinhua, adding: "Art has a universal function."
"The works have deep meaning, they reveal the talent and temperament of Chinese artists," said Zhang.
The fan paintings range from landscapes to scenes of daily life, which are part of an artistic heritage dating back thousands of years, MNAD Director Alberto Bellucci wrote on the museum's website.