Art beat (July 5-18)
Academic's art on show
Li Chao from the art school of Shanghai University is known as an academic and author of The History of Oil Painting in Shanghai. But Li's new ink paintings reveal a lesser-known aspect of him as an artist. The exhibited pieces are selected from more than 100 paintings he created in recent years. "His art is supported by his extremely high aesthetic understanding," Huang Azhong, a fellow artist and critic from Shanghai, says.
9 am-5 pm, July 3-7. Zhu Qizhan Art Museum, 580 Ouyang Road Shanghai. 021-5671-0742.
Classic play in Mandarin
The Godot Theater Company from Taiwan will present Other People's Money, a play by Jerry Sterner, in Chinese. The play tells the story of a developer named Larry, who has become wealthy from buying up companies and selling off their assets. Larry has now identified a new target - a struggling company run by Jorgy, a kindhearted man who is the primary employer in town. In order to fight the hostile takeover, Jorgy hires his stepdaughter Kate, a tough lawyer, but Larry and Kate fall in love during their confrontation. The Chinese production will feature well-known TV celebrities from Taiwan.
7:30 pm, July 12-14. People Grand Theater Shanghai, 663 Jiujiang Road, Shanghai. 021-6217-2426.
Three Asian artists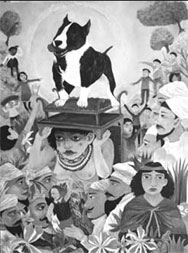 Lee Young-mi from South Korea, Liu Bing from China and Haruna Sato from Japan are presenting a joint exhibition. The three women artists grew up in the 1970s and '80s when their respective countries were undergoing dramatic economic, social and cultural changes. Their artistic creations reflect these changing times.
10 am-6 pm, July 6-Aug 25. Shun Art Gallery, Rm 103, Building 3, 50 Moganshan Road, Shanghai. 021-5252-7198.
Show of force
BBC Concert Orchestra will give a performance featuring conductor Barry Wordsworth, cellist Julian Lloyd Webber and soprano Valentina Nafornita. The orchestra is the BBC's most populist ensemble, playing a mixture of classical, light and popular music. Wordsworth was the ensemble's principal conductor from 1989 to 2006 and holds the conductor laureate title.
7:30 pm, July 18. Shanghai Oriental Art Center, 425 Dingxiang Road Pudong New Area, Shanghai. 021-6854-1234.
From land to land
The six-member Israeli group Art Espionage divided Google Map shots of an Israeli landscape into squares and sent it to China to be painted by six Chinese painters. Their goal is to extract the Israeli landscape from its political context. The project presents paintings as readymade products. The 1,000 images are on exhibition on the pedestrian shopping street of Nanjing Road E.
1-8 pm, Tuesday-Sunday, until July 15. 1F, Meilun Building, 171 Nanjing Road E, Shanghai. 021-6126-4500.
Party for summer nights
Beer, music, cool breezes and spectacular views along the riverside make for a perfect summer night. Enjoy such a night this Saturday by joining the party featuring Hong Kong pop singers Hins Cheung and Vincy Chan at Zhujiang Party Pier Beer Culture & Art Zone by the Pearl River. The two singers' repertoire includes both electronic and lyrical music. Revelers can dance away the work week as the band gets the party started.
8 pm, July 6. Zhujiang Party Pier Beer Culture & Art Zone, 118 Modiesha Street, Yuejiang Xilu, Haizhu district, Guangzhou. 020-8739-4352.
Ink arts on display
Famous Chinese ink painter and director of Guangdong Museum of Art Luo Yiping is displaying about 130 of his landscape paintings at Guangzhou Museum of Art until July 11. Luo draws people into his paintings by enshrouding mild mountains with fog and greenery to create a dreamy atmosphere. The exhibit includes large and small pieces, fan paintings and calligraphy.
9 am-5 pm on weekdays (closed on Mondays); 9:30 am-4:30 pm on weekends. 1/F, Guangzhou Museum of Art, 13, Luhu Road, Yuexiu district, Guangzhou. 020-8365-9386.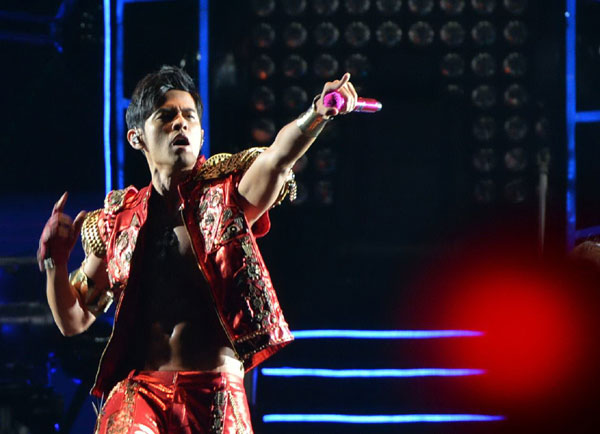 Pop star's spaceship lands
Taiwan pop star Jay Chou will park his tour "spaceship" in Guangzhou on July 12 and 13. Chou's concert has a futuristic feel, with the show opening with a light projecting a 3D spaceship in the center of the venue. Chou's hits are a mixture of R&B and ancient Chinese music. The lyrics are in classical Chinese style and he uses Chinese traditional musical instruments in many of his songs.
8 pm, July 12-13. Guangzhou International Sports Arena, 2666 Kaichuang Avenue, Luogang district, Guangzhou. 400-108-8808.