Art of urbanity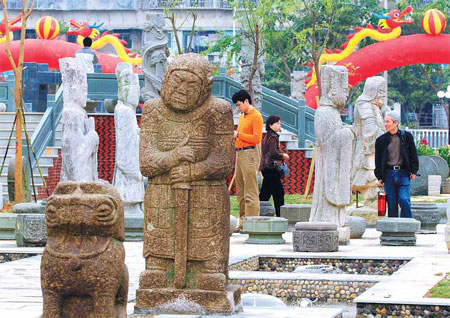 The Xiamen Cultural and Art Center, which opened in 2007, is the biggest venue for public cultural activities in the city, including a popular sculpture square. [Lan Tianyi / for China Daily]
Xiamen is poised to join the country's art commerce centers. Jules Quartly and Sun Li discover its creative edge.
Hong Kong, Beijing and Shanghai are deservedly known as centers for the arts, but Xiamen is set to gatecrash the show.
The coastal city in Fujian province aims to create an international art-trading center by leveraging its historical, geographical and cultural advantages.
The former treaty port's Gulangyu Island is popularly known as "Piano Island", while Wushipu village's 5,000 plus artists have a roughly 80 percent share of the hand-painted oil market in Europe and the US.
Meanwhile, the 100,000-sq-m Xiamen International Art and Finance Trading Center is under construction at a cost of 1.5 billion yuan ($242 million) and is scheduled to be finished in 2015.
Upon its completion, the center is set to become a multipurpose platform, allowing for the storage, exchange, repair, appraisal and sale of art works.
Gan Xuejun, chairman and president of Huachen Auctions, a major investor in the center, says that despite Xiamen's relatively small size compared with China's major metropolises, it has major advantages as a global art center.
"Due to its proximity to Taiwan and its status as a special economic zone, Xiamen is a very important city in Fujian province and southeastern China," Gan says of the former treaty port.
He says Xiamen's 3.5 million population is not short of big art buyers and would invest in the development of the city as an art center.
It has already established several museums and galleries, Gan says, while gunpowder artist Cai Guoqiang and lacquer thread sculptor Cai Shuikuang are among those who have worked on high-profile projects in the city.
Ye Chonggeng, head of the Xiamen government's publicity division, says the project is a key initiative to boost the city's cultural development in the wake of the central government's drive to develop its soft power, as set out in the Outline of China's Cultural Reform and Development in the 12th Five-Year Plan Period (2011-15).
He plays up Xiamen's pioneering spirit with a crab metaphor that can be loosely translated as being the first to put your toes in the sea and to boldly put aside the fear of being pinched.
Wang Zhanjun, a Beijing-based auctioneer, says that while Xiamen is a great place to do business, it will have its work cut out for it to be a global art hub.
"Having a nice cultural environment and market potential does not necessarily make the city an international art center," Wang says.
It's crucial that the city is in a position to offer domestic artworks to the world and bring in other countries' artworks, he believes.
Contact the writers through julesquartly@chinadaily.com.cn.