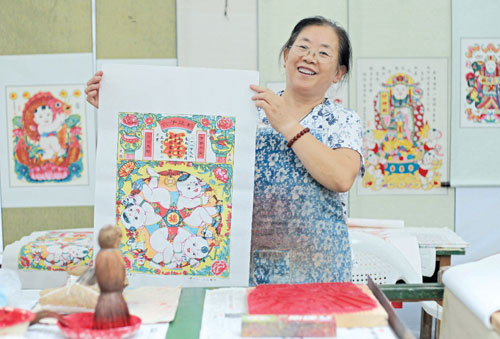 Lu Caiyan, a folk art master and woodblock New Year painter, shows off her creations at her workshop in Wuqiang county, Hebei province. Wang Jing / China Daily
Lu Caiyan, 57, lives in the village of Zhouwo, Wuqiang county, Hebei province, a four-hour drive from downtown Beijing. She has a dark complexion, plump figure and speaks with a strong local accent, but what makes her special is her skill making nianhua, or New Year paintings.
As Lu carves a woodblock her fingers twist to portray a tractor driver from the 1970s, a popular image at the time when grassroots workers were lauded for their labor.
Lu's carved blocks are covered in thick oil paint rather than the usual printer's ink, and the image is built up by adding many applications of rich, often contrasting colors. The final result often resembles a textured painting more than a print.
From choosing woodblocks to brushing the colors, each step determines the quality of nianhua, Lu says.
Lu is a third-generation New Year painter. When she was a kid, she loved staring at the paintings in her home, which were made by her father and grandfather. Nianhua are used for blessings and ringing in the Chinese Lunar New Year.
They originated from the paintings of ancient door gods and are believed to repel evil when posted on a home's door. At the same time, the paintings can decorate the house, bringing happiness and joy to the family.
"There was no entertainment then and watching those paintings was my biggest source of fun. Each painting contains a story, either fairy tales or real stories passed down from older generations," she says.
When she was 7, she asked her father to teach her how to make nianhua but was turned down because his father told her "all the artisans are men". However, she drew pictures of everything she saw, from the narrow path in front of her house to farmland scenes.
"I learned fast and soon I could finish a painting by myself," she says. "I could spend hours on nianhua without feeling bored. I was so obsessed."
In 1975, Lu became a painter at a painting factory in Wuqiang county and started designing her original nianhua. In 1988, her nianhua work, Best Wishes, featuring a boy and a girl riding on lions, was reproduced more than 1 million times by Xinhua Publishing House.
Related: Chinese humor and an opera about a bat
Her contributions to the art of woodcuts are highly original and she was awarded the title of folk art master in Hebei province in 2006.
Though the craft, like other forms of traditional culture, is fading in the modern world, Lu carries on her father's career and has taught her son, Liu Fei, to pass on the skill of making nianhua.
"You cannot make a living by making nianhua today," says Liu, 30, who works as an art teacher at a middle school. "But I won't let it die in my hands."
According to Wang Yupeng, director of Nianhua Museum in Wuqiang county, the first museum in China focusing on nianhua, nearly 100 original nianhua works from Lu's family have been collected by the museum.
Wang says the art form was first created during the reign of Emperor Yongle (1403-24) of the Ming Dynasty. By the time of emperors Kangxi and Jiaqing (1662-1820) in the Qing Dynasty, the New Year paintings of Wuqiang county were famous. At that time, there were nearly 1,000 factories and workshops with more than 10,000 employees producing various kinds of New Year paintings.
The highest annual yield was more than 100 million paintings, accounting for about one-third of the total sales of New Year paintings in China then, which is why Wuqiang is known as the "home of New Year paintings". In 1993, Wuqiang county was named by the Ministry of Culture as "the home of woodblock New Year paintings".
"Looking at Chinese prints today, you might not realize what a commercial world they derived from. Their formal elegance, poetic beauty and technical refinement suggest a more serene, creative environment," Wang says.
chennan@chinadaily.com.cn