Real estate to canvas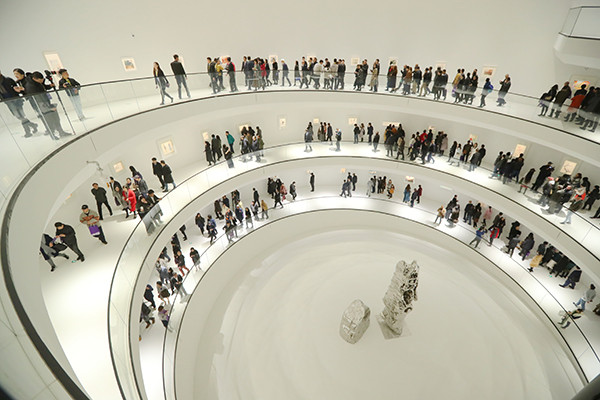 Powerlong Museum is an addition to Shanghai's cultural landscape. The permanent exhibitions include Chinese ink paintings and contemporary art collected by the museum's founder, Xu Jiankang.[Photo provided to China Daily]
A new museum highlights the trend of private companies investing in art in China. Lin Qi reports.
Powerlong Museum, among the latest additions to Shanghai's private art destinations, stands alone in the metropolis' far southwestern Minhang district. Many other such institutions, such as the Long Museum, Yuz Museum and Shanghai Center of Photography, are found in the well-known West Bund area, closer to the city center.
The real estate company Powerlong Group has opened Powerlong Museum near its headquarters, a shopping mall, a hotel and other offices.
Because of its proximity to Hongqiao Airport, the roar of airplanes overhead can also be heard.
The museum's grand opening on Nov 18 was attended by socialites from across the country and prominent figures from the art world, including Liu Yiqian, the billionaire collector who founded the Long Museum, Qiao Zhibing, a noted art collector and gallery owner, and Zhao Xu, executive director of the Beijing Poly International Auction, one of China's leading auctioneers.
Powerlong Museum has been built on the art collection of Xu Jiankang, the 65-year-old founder of the Powerlong Group who has feverishly been collecting art for the past decade.
Xu describes the museum as an initiative to "give a boost to China's cultural course and people's sense of happiness as a result of the country's rising economic power".
The three permanent exhibitions unveiled along with the opening, shows Xu's collection ranging from modern Chinese ink-brush paintings to contemporary art.