Buzz among film buffs as Chinese thriller shines at Tokyo festival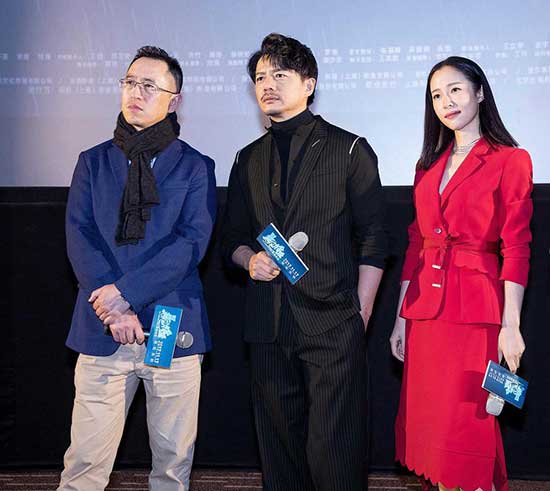 Director Dong Yue (left) alongside actor Duan Yihong and actress Jiang Yiyan share behind-the-scenes stories of The Looming Storm with audiences at the film's Beijing premiere last week.[Photo provided to China Daily]
Director Dong Yue's first feature film, The Looming Storm, recently won two top awards - for best actor and best artistic contribution - at the 30th Tokyo International Film Festival, leading to a buzz among crime noir fans.
On Friday, the two-hour feature arrived in Chinese theaters, and has so far scored 7.2 points out of 10 on the country's popular review website Douban.
But Dong is not intoxicated by the achievement.
"The reviews seem polarized. I will take a break to think more about how to balance market expectations and art," says Dong.
When Dong decided to quit his cinematographer job to become a director in 2010, his goal was clear: to make a serious movie that doesn't fool audiences.
He was looking for inspiration when in 2013 a report about a once abandoned town in northwestern China gripped his attention.
The industrial city of Yumen in Gansu province was once one of the country's largest oil production bases, but most of the locals left in the 1990s after drilling stopped.
"Only some of the elderly who were unwilling to leave insisted on staying in the desolate area. The atmosphere there sets the tune for my movie," says Dong in a telephone interview.