China-EU film fest enthralls audience in Brussels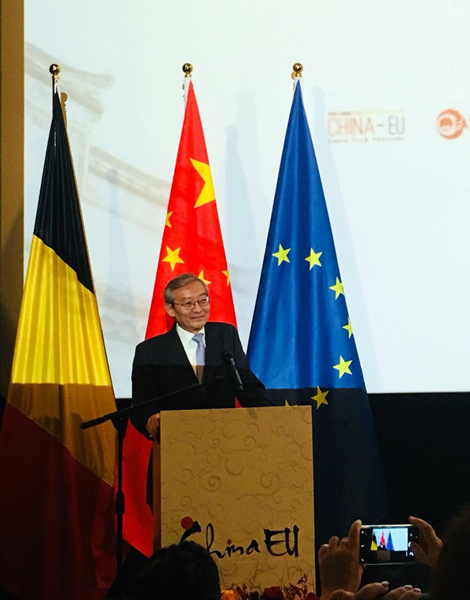 Head of the Chinese Mission to the European Union, H.E. Zhang Ming, delivers a speech as part of the opening ceremony of the China-EU Film Festival on Nov 17 in Brussels, Belgium. [Photo/People's Daily]
The China-EU Film Festival concluded its third installment in Brussels on Tuesday, and those in attendance felt it was the best one yet.
As part of the China Arts Festival in the EU, the film segment is aimed at strengthening bilateral relations by helping others gain a better understanding of Chinese culture through film.
At the opening ceremony, head of the Chinese Mission to the European Union, H.E. Zhang Ming said, "In Europe and China, movies are an important part of people's life. They are also an ideal platform to communicate throughout the continents. In a way, they allow us to have a glance on each other's cultures."
For the opener, guests were treated with a screening of Born in China, directed by Lu Chuan, one of China's leading auteurs. A reception followed, with Lu in attendance, providing guest with an opportunity to meet the Chinese director.
"As one of the festival hosts, we were very proud and delighted to gather positive reactions from European audience, who even asked for more Chinese films through our platform," said Julie Patterson, chairwoman of the Committee of the China Arts Festival in the EU, during her opening address on Nov 17.
This year, a total of four Chinese films were handpicked including, Running Like Wind, directed by Zhong Hai, a story about human courage and overcoming challenges.
Other screenings included the mega-blockbuster Wolf Warriors 2, directed by Wu Jing, a story about brave people who fight for peace. Wu's film was shown both Saturday and Sunday.
"Chinese cinema yields very high-quality films every year, but suffers from a lack of visibility in Europe. We hope that the current China-EU Film Festival can help create a bigger interest in Chinese cinema from Europeans.
Paths of the Soul, a documentary directed by Zhang Yang, closed the festival on Nov 20.
"The films selected this year are not only a chance for viewers to discover the latest Chinese films, but most importantly, they are a reminder of the universal nature of human beings and a tribute to our mother nature,"said Patterson.
This year's four-day film extravaganza was held at Flagey, a cultural hub of Brussels celebrating music, film, and art.