He Saifei looks forward to jury work in Australia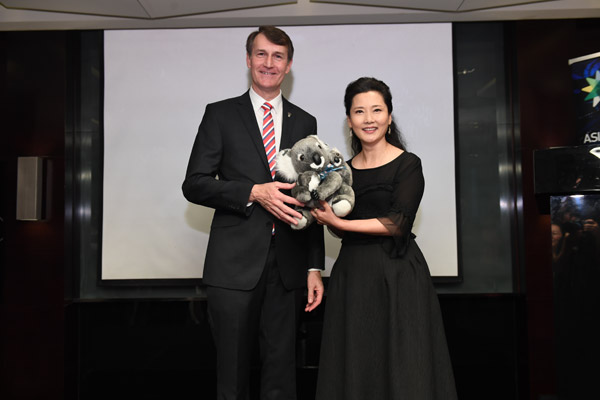 Brisbane Mayor Graham Quirk (left) presented a Koala toy gift to He Saifei. [Photo provided to China Daily]
Film actress He Saifei has been associated with Yueju Opera, one of China's most prominent art forms with a history of more than a century.
Earlier this month, she was named a jury member for the 2017 Asia Pacific Screen Awards, an event that honors movie talent from the Asia-Pacific region.
Filipino writer-director Adolfo Alix Jr. and Kazakh director-cinematographer Adilkhan Yerzhanov were also named alongside He as the first three international members of the awards jury.
The five-member international jury-with two others yet to be announced-will determine the winners in each of the awards' seven categories, including the best feature film, achievement in directing and the best actor and actress. The awards will be announced in Brisbane, Australia, on Nov 23.
"The awards are well-known to Chinese filmmakers. I am glad and privileged to serve as a jury member," He, 54, says after attending a felicitation ceremony in Beijing.
The annual APSA event was launched in Brisbane in 2007.
Over the past decade, more than 200 Chinese movies have joined the competitions, and nearly 100 Chinese nominees, winners and jury members have been inducted into the APSA Academy. Celebrated winners include Zhang Ziyi for Grandmaster (2013) and Chen Daoming for Aftershock (2010).
Her interview with China Daily is interrupted many times by the Australian film industry insiders, who ask for photos with the Chinese actress or praise her beauty. Their enthusiasm makes her remember her last journey to Australia to attend the 3rd China Australia International Film Festival in 2016.