He Saifei looks forward to jury work in Australia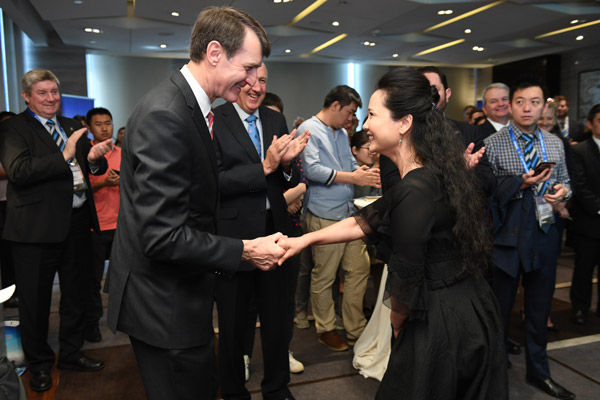 Brisbane Mayor Graham Quirk (left) greets He Saifei. [Photo provided to China Daily]
She won the best actress award at the festival in Brisbane in October for Goddesses in the Flames of War. In it, she plays the role of a woman who suffers in the Japanese invasion of China during World War II.
"Brisbane is such a beautiful city. When I got up early one morning, I was enthralled by the beautiful scenery. I am excited to return to Australia again," she says.
The job of a member of the awards jury will be tough as she will spend a lot of time watching the shortlisted movies and give her reviews. But cinema has been a lifelong love for the actress.
Her career took off as a performer in the prestigious Zhejiang Xiaobaihua Yue Opera Troupe in the early 1980s.
Most Chinese opera fans were impressed with her role as the loyal female helper Cuiyun in the award-winning Yueju Opera film Wu Nyu Bai Shou (Five Daughters Celebrate Their Father's Birthday, 1984) and the Buddhist nun Miaoyu in the movie Dream of the Red Chamber (1986).
Her fame on the big screen grew after she played the role of a concubine in Zhang Yimou's Raise the Red Lantern that was nominated for the Oscars in 1992. She also worked with some top Chinese directors, such as Chen Kaige for Temptress Moon (1994) and Ang Lee for his award-winning Lust, Caution (2007).
"It was arguably the best time for Chinese filmmakers. Back then, all the actors and actresses concentrated on acting. We hardly cared about the pay or the length of shooting. A movie was shot for at least six months back then, but now most movies merely take one or two months on filming," says He.
She says she cherishes the old days but hopes Chinese filmmakers will produce more classic films in the future.