Movie coproduced by BRICS countries to be showcased at Xiamen BRICS Summit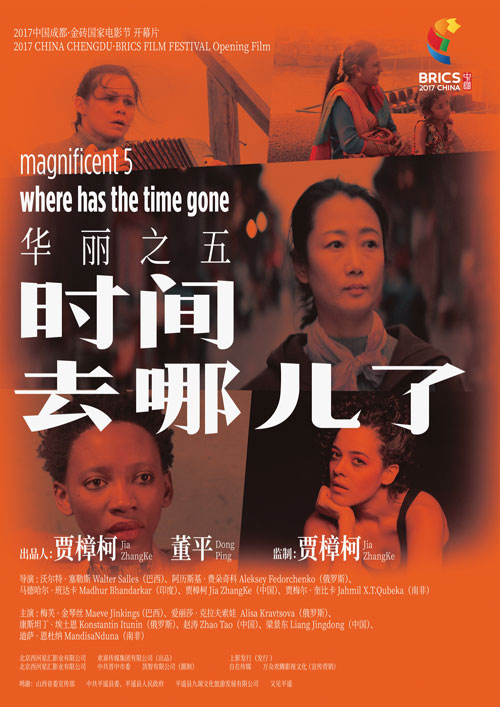 The post of film Where Has Time Gone?.
Jia said the story which surprised him most was the South African one, Stillborn, a sci­fi tale about a janitor who fought against her destiny, pre­programed in a futuristic world.
"It explores the recycling of life with a rich imagination," he said.
For most Chinese viewers the Indian story, Mumbai Mist, may strike the most resonant chord. In a sprawling city, a retired man drives away loneliness by befriending a street boy.
In Revive, the Chinese short story of Where Has Time Gone?, Jia again shows his stylish bent for depicting modern Chinese and the confused lives they lead.
The story, set in Pingyao, a town in Shanxi province, centers on a middle-aged couple who wrestle with the question of whether they should have a second child.
The story begins with a comedy scene in which a man brandishing a sword jumps off an ancient section of wall to fight against a group of hunters who are chasing him and want to capture him, until several tourists show up and use their smartphones to take photos. The couple and their neighbors are all live action performers working and living in the town.
"I've always wanted to shoot a modern story that is set in an ancient town," Jia said.
"Pingyao has a history that goes back more than 3,000 years. It has been flooded by youngsters since it became a tourist attraction. To some extent, the newcomers have breathed life into the old town."
In addition, Jia has long been fascinated by the topic of couples having a second child and going through middle life crises.
"Since the country adopted the policy that allows families to have a second child, many couples have expressed the wish to do so," he said.
"But they also encounter many problems, such as economic stress and gaining approval for their decision from the first child.
"I also wanted to shoot a story about a couple reigniting their enthusiasm for one another and for the own lives after being married for many years."
Jia added he took part in similar projects, before Where Has Time Gone?, that brought filmmakers from multiple countries together.
"They were initiated by South Korea and Switzerland. I feel so proud that now I can join a Chinese led project. The coproduction is making history by transforming BRICS from a political and economic concept into a cultural one," he said.