Beijing Book Fair opens with flourish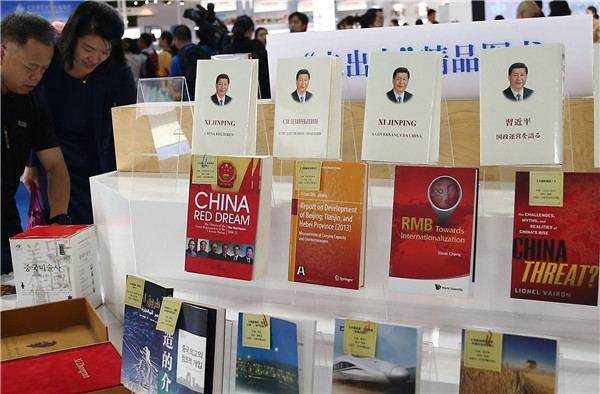 The 24th Beijing International Book Fair, which opened on Wednesday, will present over 300,000 books from 89 countries during its five days. [Photo by Zou Hong/China Daily]
A five-day spree of book events kicked off with a flourish on Wednesday as the 24th Beijing International Book Fair in Beijing opened featuring guest of honor Iran and its theme "The Colorful Dream of the Silk Road".
Mohammad Rasoul Almasieh, cultural counselor of Iranian embassy in Beijing, said: "It's our honor to have this chance at the fair, which is a grand cultural event. The Belt and Road Initiative has already brought unprecedented development in our infrastructure, and we're expecting it to have more cultural exchanges."
Iran brought more than 100 publishers, writers, illustrators and artists to the fair.
Majid Jafari Aghdam, director of the Iranian Pol Literary & Translation Agency, said he has been doing business with Chinese publishers and agencies for two years.
"I want to introduce Iranian titles to the Chinese market, and hope to get more familiar with the Chinese one, and that I can introduce more Chinese authors to Iranian readers," he told China Daily.
He said his readers would like to read children's books, novels telling stories of present-day Chinese life, books for young adults from Chinese writers, and "maybe the translations of Chinese ancient classics rewritten in contemporary languages".
The fair this year is held together with the 15th Beijing International Book Festival "to highlight international the copyright trade with professionals as well as promote the delight of reading among general readers", said Lin Liying, of China National Publications and Import & Export (Group) Corp, one of the fair's organizers.
Lin said about 2,500 publishers from 89 countries and regions will attend, publishers from Oman, Azerbaijan and Ukraine for the first time.
Of the 300,000 titles on exhibit, 10,000 were selected for display in a special area of influential books published in the past five years. One group among these books in Chinese and foreign languages represents the Party's governing philosophy, China's progress in multiple areas in the past five years, and how Chinese titles are being read globally.
Anecdotes and Sayings of Xi Jinping, published by People's Publishing House, is one such publication.
Foreign Languages Press released English and French versions of President Xi's Up and Out of Poverty on Wednesday.
Also from the press, Xi Jinping: the Governance of China has sold 6.42 million copies worldwide and in 21 languages.
"The Beijing International Book Fair is a window on the world of publishing and also of Chinese publishing's global presence," said Zhao Haiyun, of the State Administration of Press, Publication, Radio, Film and Television.
"The fair grows stronger over the years because Chinese publishing is growing, and China-foreign cultural exchanges deepens" Zhao said.
Literature holds an honored place in the fair, whose Literary Salon has drawn more than 70 writers from around the world to Beijing.
Literary masters Mo Yan and Jia Pingwa were at the fair. Jia released his new English-title Happy Dreams.
"I'm glad more foreign readers will be able to read and know genuine contemporary Chinese stories through literature," Jia said.