Circling around reality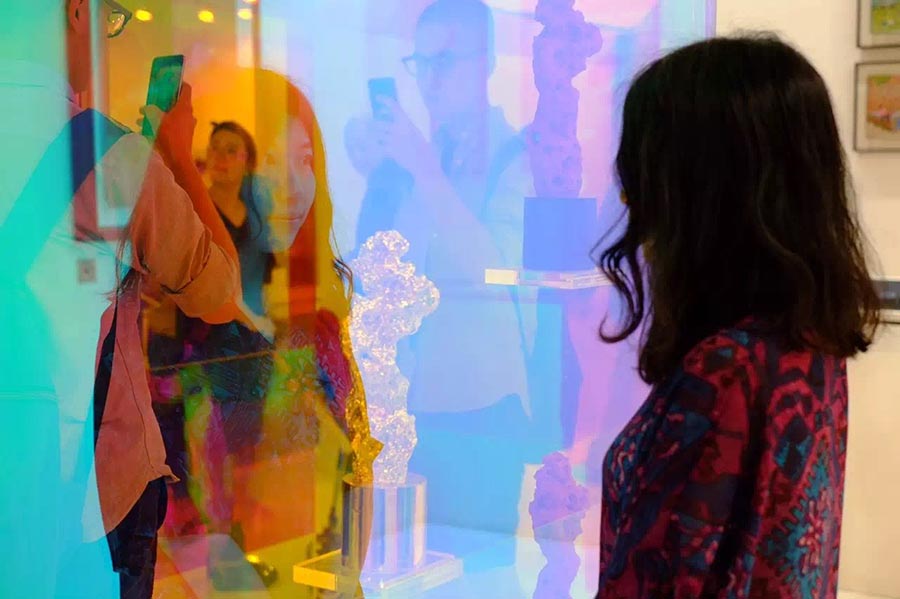 The exhibition Huan Zhong — Nature follows Abstraction is on display at at KWM Art Center in Beijing until Sept 22. [Photo provided to China Daily]
Huan Zhong, a term which refers to the space within a circle, is a concept originated by Chinese philosopher Zhuang Zi in the 4th century BC. In Zhuang's opinion, the circle represented the realistic world, while the space was the abstract and intangible.
An exhibition inspired by the concept is currently on display at KWM Art Center in Beijing. Huan Zhong — Nature follows Abstraction aims to intepret the concept with abstract artworks. Thirteen artists from home and abroad present diverse works ranging from paintings, sculpture and photography to textiles and ceramics.
In the center of the space is The Last Egg, where nine similarly-sized ceramic jars are fractured to give the appearance of broken eggshells. The artist, Zhao Yao, explains that the work represents the two selves that reside within every human being in the modern world — the natural self and the rational self. As urban civilization continues to develop, it endows the human subconscious with a penchant for the natural, the organic and the vital, as well as an attachment to rationality.
Eclipse by Dutch artist Henny van Nistelrooy is inspired by solar and lunar eclipses. The design creates an eclipse of two rugs, seemingly overlapping each other. These were handmade in Nepal by skilled craftsman over a period of four months.
The exhibition will run until Sept 22.