Rocker stages comeback tour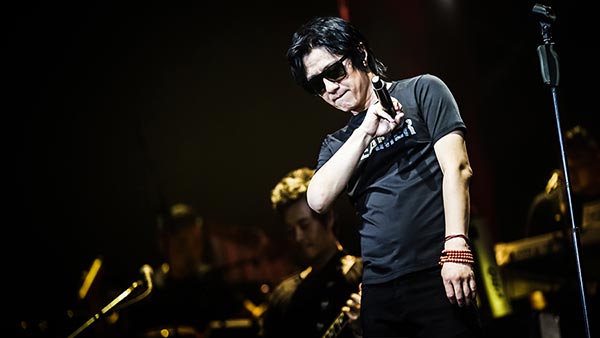 Chinese rocker Zheng Jun [Photo by Ma Yiting and Ji Jianpeng/China Daily]
Chinese rocker Zheng Jun kicked off his national tour in Beijing on June 24.
The 50-year-old singer-songwriter will tour other cities until December, including his hometown, Shaanxi province's capital, Xi'an.
He performed about 30 songs in Beijing, including Cinderella, Return to Lhasa and a Chinese-language cover of Coldplay's Yellow.
He was joined by his longtime friend, singer-songwriter Gao Qi, for a performance of John Lennon's classic song, Imagine.
Zheng achieved instant fame in 1994 with his debut album, Naked.
With his rebellious voice, frank and thought-provoking lyrics, and good looks, Zheng has stood out from other Chinese rockers of his generation, who emerged in the early 1990s.
However, after giving his last tour in 2006, Zheng slowed down and withdrew from the limelight, focusing on fatherhood, yoga and meditation, and a book project, titled Rock Dog, which is about a Tibetan mastiff that pursues a musical dream. In 2016, the book, which is dedicated to his daughter, who's now 18, was adapted into a 3-D animated film, a Sino-US production directed by Ash Brannon — director of Toy Story 2.