Encyclopedia of China update to go online in 2018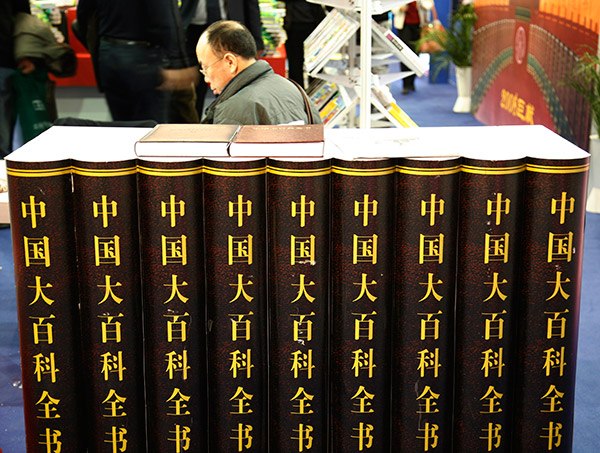 Encyclopedia of China (second edition) is on display at a Beijing book fair.[Photo by Zhang Kaixin/For China Daily]
The online version of Encyclopedia of China (third edition), which will be released next year, is not aimed at Wikipedia, as many people assume, says Yang Muzhi, executive editor-in-chief of the encyclopedia.
"Actually, we learned from Wikipedia's advanced experience, such as giving links of the references at the bottom of the web page of an entry. But as an authoritative encyclopedia, the Encyclopedia of China is not an open platform on which any person online can add or delete content," he says.
Yang says in the digital era, readers prefer online versions of printed books because of convenience. The encyclopedia is divided into many volumes and heavy to carry around.
In 2012, the 249-year-old Encyclopaedia Britannica announced the end of its printed version and said it would focus on building digital versions. Now, its online version contains more than 150,000 entries.
Launched in 2001, Wikipedia already has 790,000 entries in more than 280 languages, which "is an amazing work over such a short time", Yang says.
In a media article years ago, Yang wrote that China did not have a modern encyclopedia that presented the overall look of the country's culture or summarized and analyzed existing knowledge systems of natural science and social science of the era. That changed in 1993, when the first edition of the 74-volume Encyclopedia of China came out after 15 years of work by more than 20,600 scholars.
In 2007, the 32-volume second edition came out, revised and recompiled based on the nearly 78,000 entries in the first edition.
Starting in 2011, so far more than 20,000 scholars from higher education institutions and research institutions have joined in the building of the third edition of the encyclopedia.
The printed version will be released after the online version.
"The whole project will involve more than 40,000 scholars in the end," says Liu Hang, deputy editor-in-chief at Encyclopedia of China Publishing House.