24th Beijing College Student Film Festival kicks off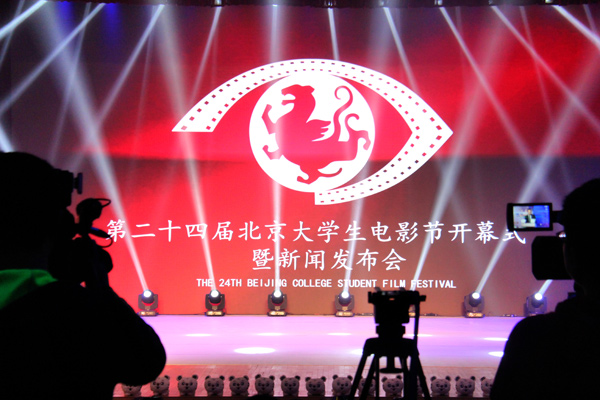 The 24th Beijing College Student Film Festival (BCSFF) kicked off at Beijing Theater on Saturday. [Photo by Zhang Xingjian/chinadaily.com.cn]
The 24th Beijing College Student Film Festival (BCSFF) kicked off at Beijing Theater on Saturday. A total of 34 films including Duckweed, Soulmate and Chongqing Hotpot will compete for jury awards.
Embracing the idea of "Youth and Passion, Academic Taste and Cultural Awareness", the film festival has become an important portal to promote domestic films in previous years.
"In the fields of movie, art and education, it has earned much influence and reputation. Beijing Normal University as the organizer will continue to pay tribute to the achievements of the past and move on confidently," said Li Xiaobing, deputy party secretary of Beijing Normal University.
This year marks the 90th anniversary of the founding of the Chinese People's Liberation Army. Therefore, a special unit was created for the opening ceremony of the festival. With the theme "In Tribute to Military Soul", the organizing committee invited over 70 experts and insiders in film and military fields to choose 11 qualified films to reflect on the tremendous changes of the era and record the grand image of Chinese military men in past decades.
The winning films, well-known to most Chinese people, includes Fighting North and South, The Story of Liubao Village, Red Detachment of Women, Visitors On The Icy Mountain, Little Soldier Zhang Ga, Flower, Anxious to Return, One and Eight, Wreaths at Foot of Mountain, Bloody Battle and Assembly.
"It is not an easy task to shoot a film in that period with shortage of funding and technology. However, we did it because we believed in the power of film," 84-year-old actress Tao Yuling said, who starred as Liubao in the film The Story of Liubao Village in 1957.
"Film, to some degree, is the carrier of certain times. We can reflect on the past and gain inspiration from them in the future," Chinese scholar Yu Dan added.
Meanwhile, a variety of student-oriented events, such as the 18th College Student Film Competition, 8th Filmko Award Colleges Student Script Competition, 3rd Beijing College Student Photography Competition, will he held throughout the one-month film festival.
The theme-film exhibition including the "Belt and Road" unit will also open to the public in upcoming days.
The film festival is organized by Beijing Normal University and the Beijing Municipal Bureau of Radio, Film and Television. It is one of the most prestigious film festivals in China, and aims to find more budding film talents.