Fusion form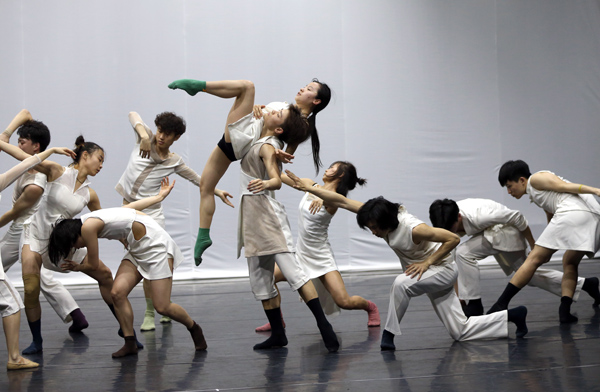 White Lotus-Black Sand is a collaborative production by the Rhythmosaic-Sengupta Dance Company and Beijing Dance/LDTX. [Photo provided to China Daily] 
Indian and Chinese artists get together to present a piece inspired by classical kathak and modern dance in Beijing, Chen Nan reports.
She spins around and around really fast with her long, black braided hair spinning in the air and her hands gesturing up and down.
"It's all about the center point. All the movements start and return to the center point of the body," gasps Mitul Sengupta, a 35-year-old Indian dancer-choreographer, who displays a movement of kathak, a major Indian classical dance form, at the theater of Beijing Dance/LDTX.
This is part of her latest choreography work, titled White Lotus - Black Sand, which will be staged at Beijing's Tianqiao Performing Arts Center on Friday and will travel to Taiyuan in Shanxi province on Monday.
The work is the first collaborative project between Rhythmosaic-Sengupta Dance Company, which was founded by Sengupta 10 years ago along with her husband, Ronnie Shambik Ghose, who graduated from the Hong Kong Academy for Performing Arts with a major in musical theater dance, and Beijing Dance/LDTX, which was founded by Willy Tsao in 2005.